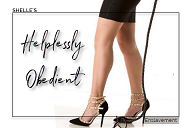 My sweet, this week I want you to do something for Me...you can do that, can't you?  When you listen to this week's Helplessly Obedient, I want you to dim the lights or light a candle.  Get completely naked and lie back in a very cozy place, with your legs open wait for your Domina.  your mind relaxed and obedient and your c*ck proud—hard---erect---ready and MINE.  Oh, don't worry.  your slave c*ck will already be hard, a natural reaction when you OBEY your Mistress.  My commands will melt you...My words will slip right off your tongue.  This is a VERY interactive session.  I know you love being properly trained in OBEDIENCE.  Can you repeat now 10 times "Obedience Is Pleasure"?  Go ahead and OBEY NOW...let those words slip into your open and suggestible mind and drip off your tongue.  SEXY, don't you think?  This session is going to be good for you.  Guess what?  There are two versions...you will prolly want to listen to both.  Did I just plant a powerful suggestion into your open mind? Giggles!!!  Oh and there is an ASSIGNMENT-Two VERSIONS.
ASSIGNMENT
To compliment this week's session, I have two versions of this Obedience ASSIGNMENT, for My submissives and My sissy gurls to insure obedience and discourage disobedience.  It has My picture as motivation and a short obedience LOOP is included.  The file Programmed is in Special Deals as is Absolute Authority.
UPDATE
W/we have had an Amazing last year and I am planning an even better year for you in 2020, My pet.  you know I am a Domina who encourages close, personal, long term relationships.  That's an important motivation for the hard work I do to keep things fresh and exciting, something that works for any successful love relationship.  Oh, My, only with U/us, there is never a misunderstanding who is in Charge and who serves Whom. ~giggles~
Speaking of serving, I expect your support with My other goal.  I need less stress from work.  Throughout the year, I'll be letting you know how to do that, starting in a couple of weeks with ReForm School Class #15.
NEXT WEEK
Don't worry, BONDAGE, that's next week....There's a new Sheriff in town and I hear She is a terribly TOUGH and very DOMINANT.
Be sure to check My special deals ...