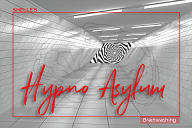 Just relax, My pet, look into the spiral. The time is always right for Me to take your mind where it needs to go ... to My Hypno-Asylum where I do all the thinking for you. This week you'll realize that My Hypno-Asylum lives within your mind, which is always at the center of My Hypnotic world. you can never really leave this place because it is your home. It's where you want to be. It's where profound and permanent changes in your mind occur at My will and whenever I choose to speak.
you need My constant psychological treatments and conditioning to make you feel better. My treatments are part of your ongoing slave training and development to fulfill your role as My beta drone and reinforce the self identity I gave you as My slave 624. you know that only I know what is best for you and what you truly want and need. Only My control can make you happy.
So you don't even have to think about it anymore. you simply OBEY on your journey to becoming My Perfect slave. always striving for complete HYPNOTIC submission and obedience to My TOTAL Control and Domination. you need to feel this happiness, excitement and fulfillment that only happens when you are obeying My wishes, completely. you will listen to this session over and over, as instructed, to make these changes permanent.
Can you feel what's happening, My baby? Each week building on the previous week...your mind turning into mush as soon as you hear My voice. Just the way things should be. See how I take such good care of you. It works out so well, doesn't it? Giggles
UPDATES
As time is running out, be sure to help your Domina make an investment in My, actually, O/our future with your contribution to My Challenge To PLEASE retirement fund. I have always counted on you and you have never disappointed Me. I appreciate you soooo much! Kisses
Sissy Beta Drone is finally available in New Releases, if you have not already purchased Beta Drone and received a copy.
Remember, I am often able to post the week's new session in New Releases BEFORE I put up My blog and send out your email notice.... So look for it, if you just can't wait. Giggles
This coming week has two of My favorite days, VOLUNTEER Day the 15th and St. Patrick's Day when everyone is Irish. Two days for you to enjoy yourself. I'm sure you know what to do, My sweet.
NEXT WEEK I am going to fill your dreams and reality with pleasure you'll never forget that only I can give you.
My special deals this week:
The Allure --
Find yourself CAPTURED and MESMERIZED. Unable to resist your SUBMISSION.
Erotic Control - Rest --
I bring together your mental bliss with physical pleasure...
Rebecca Series --
Four progressive "Rebecca" sessions plus three assignments.