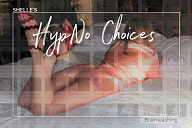 My sweet, W/we do have an unbreakable bond. I can see how your love has grown into something very special. you have given Me such an overwhelming and Amazing Birthday to show Me just how much you want to please and make Me happy. WONDERFUL! And this week I have an exciting reward session for you with HypNO Choices to reinforce your Reality as My slave and strengthen your Destiny to serve and strengthen O/our Loving relationship.
I know you so well, My pet, and I love to make things easier for you. There are so many choices in life to make you happy and successful, to fulfill all your responsibilities and dreams, to overcome obstacles and difficulties that come your way. In O/our Erotic Hypnotic World I have laid everything out for you. Whenever you hear My voice, you are able to stop thinking and stop deciding. you just go blank and become so docile and obedient and do what you're told, because you know through experience that what I choose and want is exactly what you need and desire.
Sometimes it's so hard to make choices, too stressful...but easy to simply obey. you always Honor all of My wishes and commands because you can't choose to resist. you can't do anything at all except Love, Honor, and Obey Me and only Me as your Domina. So, get very, very comfortable in bed and make room for Me. ~giggles~ Listen and feel Me so intimately close to you. This session builds on previous training sessions. I satisfy all your submissive needs. I am the source of all your sexual pleasure. I will teach you to use your arousal to better serve Me and fulfill your destiny. Follow My instructions and give yourself plenty of time to think of Me, to enjoy the pleasure of wanting to please and serve Domina Shelle. After all, My baby, I am your Everything....a li'l bit of sugar and spice and all things wickedly nice.
BIRTHDAY
Wow, Wow, Wow. you have made Me so happy with your incredible show of Love and devotion. I am really overwhelmed with gratitude. you Love Me and want Me to live the life of a real Princess, your Princess. Thank you, My subject. I look forward to your gift of October at the beach. Yippee! Beach BOUND. Oh yeah!
UPDATES
COVID your birthday cheer couldn't have come at a better time to pick up My spirits. This is very serious and sad, My baby. I have been called back to work at the hospital for extra shifts. There has been an explosion of Covid cases due to the Delta variant. Our beds are full of Covid patients. The virus is an insidious enemy that mutates to survive into a more infectious form. The medical consensus is that getting vaccinated is the best prevention. If you haven't been vaccinated, consult your physician for advice. Most medical doctors recommend it. Again, consult your physician for info on what's best for you and your present conditions. Be safe for Me. We GOT this!
Chastity slave, the good news is that I am planning LOC-TOBER 2021 which will be here sooner than you think. It's going to be BIG...ummm, if you know what I mean.
NEXT WEEK I have a very sexy trip planned for U/us. So, I need you to be extra helpful. I know I have put the li'l trip off, but let's just do it!
Take a look at My special deals:
Deceptive Truth --
you need the Deceptive TRUTH. SO SEXY, So Provocative, alluring and most WICKED.
Brainwashed and Collared --
I prepare you for a future of being collared and at My feet...
OBEDIENCE Training --
Create a perfect and willing slave for My pleasure...