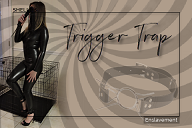 My sweet, by the time you read this, your Domina will be on Her drive to the beach. I'm sooo excited. I can NOT wait to slip into My new bikini and bathe My body in suntan oil. Yum, the scent of coconut. The only thing missing is you, responding to My bell. Just imagine, your bringing Me drinks and keeping Me cool with the large fan that has been supplied to you. Let your mind wander, Mine will be lost in My desires to have your serving Me as you should be. I'll keep you updated in emails, text and TWEETS! Close your eyes NOW and see Me in My sexy yellow bikini.
This week I bring you a special gift, Trigger Trap where I will introduce you to My INESCAPABLE CAGE. With My hypno triggers, I have constructed an INESCAPABLE place in your mind. This is the place you are your truest self, the person you need and long to be... My slave, submissive and obedient. This is your place of security, where you will always have your Domina so near and close. A place of unparalleled joy and pleasure, forever aroused under My hypnotic domination.
I know what you need. you trust Me and know that you want what I want for you, My puppy. I always nurture, help and protect you. This is why sometimes I have to warn you of My power and My EROTIC HYPNOSIS. My power is unquestionable and undeniable. I am relentless when it comes to playing inside your mind, brainwashing you and exerting My sexy HYPNOTIC DOMINATION over you. Ummm, I bet that caused a little swelling. you are so naughty and I have come to believe that you love DANGER. you have thrown CAUTION to the wind. Is this what arouses you...does My power over you give you exactly what you want? Well, My sweet, go NOW and download and listen. you can't stop yourself. The curiosity will drive you as mad as My sexy words slipping into your brain. Get TRAPPED! Get TRIGGERED! Be WARNED! This session can and will cause permanent changes to your brain.
Oh and My sweet, check your email for a FREE very SEXY 7 day assignment. If you have not subscribed for My mailouts, you are missing out. (If you do not have all the sessions needed to obey the assignment, just email Me for a package DEAL on what you need).
UPDATE
NEW SFS story...enjoy! Oh and coming to My contracted "VOWS". you will be happy to be OWNED by Me. Be careful, stay safe. This pandemic is still raging.... follow your Healthy Lifestyle rules.
Check My special deals:
Blue Maiden --
This will bring you another step closer to COMPLETELY living under MY wicked control...
MY VIRUS --
MY VIRUS---THE PERFECT PROGRAM---NO ANTIDOTE
OBEY OBEY OBEY --
Listen and OBEY---can NOT resist---