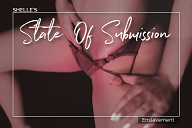 My pet, you have been doing so well with your submission conditioning, feeling so weak for Me, needing to submit and now begging for your Domina to take over complete control of "XXX". you have been addicted and absorbed by your Domina to be forever MINE. But there is another world out there where W/we all spend time, have responsibilities and feel stress and pressures of that world outside O/our Erotic Hypnotic World where you are always safe and stress free.
So this week, I will take care of you in a different way. One of My responsibilities and priorities as your Domina and Owner is your mental and psychological well being… at home... at work… with family, friends and work colleagues, which often comes with stress and pressure. With this week's State Of Submission surrender into the rush of pleasurable submission to My reassuring, arousing voice and words as My hands massage your body into Complete relaxation. Then you will be with Me 24/7, under My guidance and protection. I will rescue you from any outside pressures and stress that may come your way.
Whenever you need to, you will listen to this session. Get lost in the pleasure only My voice can provide and follow My instructions throughout each day. Feel the bliss and arousal of obeying My words. Feel My touch, breathe in My essence. Use the seduction of My body while you rub suntan oil deep into My soft, smooth skin to "release" all your stress and negative feelings. I am teaching you the secret of living stress free in the life I have chosen for you and that you are destined to live as your true submissive self... and focus on serving and pleasing your Domina and Protector. Follow wherever I take you. XXX are MINE and I will always take care to protect you and satisfy all your submissive needs to obey and serve, My baby.
UPDATE
Thank you, My sweet. I got quite a few compliments on My legs from My brief little gift video from last week. I want you in the perfect state of mind for this week's session. These are the legs you'll be massaging suntan oil into as you listen. ~giggles~
Contracted, I have been working on a picture video for your September training and conditioning session. Watch your email for it next week.
NEXT WEEK I don't want XXX to be having any identity crisis, My sweet, you will see yourself as I see you, through My eyes.... Plus sign-up for LOC-TOBER...
See My special deals:
Brainwashed Phase III Series --
This series is EXTREME Brainwashing. NOT for beginners!
Dark Room - Warped Mind --
Twisting your reality until your warped mind slides ever deeper into My dominion...
Misdirected --
Misdirected---EXTREME CONFUSION...PERFECT for you.