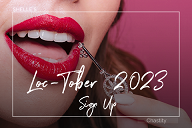 Hello, My hard and HORNY followers. I want you to tell Me something, and I want you to be completely honest. Just how much time do you spend thinking about Me and masturbating? And how much of that time is devoted to serving Me by offering Me your pleasure with a masturbation fee which makes it so much better? So, what will it be? Wasting MY time playing with that thing between your legs showing Me no gratitude? OR serving and pleasing Me for allowing you to orgasm with a masturbation fee HERE.
For the whole month of October, have you ever wondered how long you could last without cumming? I know you DREAM of having your c*ck locked up by a POWERFUL, Dominant woman, ME, of course. Lucky you. I think that it's time I make that dream come true for you.
Perhaps you have experienced that level of control before, maybe you have participated in My previous LocTober assignments. In only a few days, LocTober begins. Have you been counting down your final days of freedom for your c*ck? Or maybe you are LIVING in chastity and you wish to DEVOTE this month as a special GIFT to your Domina and Her needs.
Are you ready to give Me the keys to your MOST prized possession?
Do you think that you are a dedicated enough slave for Me, that you can do it? I mean NOT only being LOCKED down but feeling the frustration as your Domina teases and taunts your c*ck... such HOT sexy fun.
LOCTOBER SIGN UP
I do love the control that you hand over to ME.
I am your Keyholder. Some things to think about.
How long before you are begging at My feet for RELEASE?
What could I make you promise to give Me?
What could I make you do for me?
What would you allow Me to do to you, just for those sensations of relief, that I control completely?
What's that? Well, of course I know that could be classified as coercive. That's the whole point! I lock you away and you become so submissive that all you can do is obey, just for the hope that I might be sweet and grant you release...
Can you imagine the ways I could tease you and drive you closer and closer to that mental edge, where all you can think about is that momentary blissful release, for your poor neglected sex?
Can you imagine if I had you kneeling before Me, bound, gagged and blindfolded? I could touch Myself, sliding My fingers beneath My panties in front of your face and you wouldn't be able to see; only BREATHE in My intoxicating scent...My own arousal caused by the control I have taken from you...
Can you imagine if I pressed My fingers under your nose and across your lips, leaving you with the overwhelming scent of My pleasure, as you struggle against your bindings? Wouldn't that be so fucking hot?!!!
So, My sweet slave, what would you promise Me, for just one release? What will you sacrifice for Me? What binding promises are you willing to make? Go into your collection of My sessions and make sure you have all of the REQUIRED files for My LOCTOBER Chastity Sign-Up. Don't worry about TEASERS etc, those will be NEW or NEWISH. If you are missing any of the LOCTOBER sessions go to My SPECIAL DEALS and get them there.
Don't worry, if you don't join in, there will be (NEW) SEXY Mind FUCKING sessions weekly. The new file RELEASES are for EVERYONE... Just think though, My sweet slave, the files are the only thing that can look forward to regular releases for the next month. ((Wicked Laugh))
Yes, that means they'll be safe for you even if I am HOLDING The Key to your hypnotic slave cage, or even if I physically hold the only means to open The Lock that keeps the cage on your slave c*ck...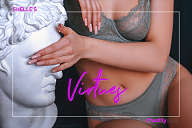 Now, for those who are craving more attention from My Evil Twin, check out VIRTUES. This is a session that is being sold on the basis of "ONLY if you dare."
I am offering a strong WARNING for this session... It is NOT My usual style at all. It is what some of you have begged for though... Don't blame Me if My Evil Twin fucks up your mind, I am only giving you what you said will make you happy!
UPDATES
CONTRACTED: If you have signed up for LocTober then DO NOT follow the SFS calendar if it contradicts that day's Chastity instructions.
The trip to TN is being put off for another few days.
What are you planning to dress up for Halloween???
I am going to be dressed as a sexy seductress, who will ensnare the hearts and minds of all who dare gaze into My Entrancing Eyes and listen to My soft sweet voice... I can't help but be Myself. I have an image of you dressed in nothing but a leather collar and restraints.((giggles))
My Special DEALS include the LOCTOBER sessions package and a few sexy chastity files ---