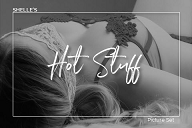 Are you ready for Springtime? I'm ready for LONG hot sweaty RUNS. So how about W/we TRY to leave some troubles behind and start O/our Spring rebirth, today? And the best way to do that is to turn your focus and attention to Me, of course, the source of all good things that happen to you. ***Giggles***
From My recent Photoshoot I have a NEW sexy, revealing picture pack with Shelle's Hot Stuff Photos. Spending some time with Me, naturally, in private ~giggles~, will bring more vivid images to your imagination when you listen again to these recent sessions...and this makes your emotions and sensations even more real. See how your sweet innocent Domme has grown up over the years (funny how W/we have grown together). I have so much POWER over you now.
Now, I know you like the opportunity to be helpful to your Domina with the photoshoot expenses and the new items I bought to model for you. So, if you want to help and Dress Me Up (for future shoots), don't purchase the Picture Pack because I will send it to you for FREE in appreciation for your wanting to take care of your Princess.
To My contracted, with your support that helps Me make all this possible, I know you will enjoy your new Free GIFT (coming over the next few days, watch your email).
I have decided to do one less general session at the beginning of each month to coincide with My "contracted's" monthly support and instead I will give you a monthly PROGRAMMING session as My Gift. I know that I have mentioned this in the past, but I am going to see how 3 sessions instead of 4 per month works out for U/us all. This will also allow you more training time with each new session. I want you to have time to be properly TRAINED for your Domina.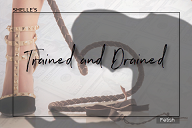 I do have a NEW session this week, but it is not a general session. It is a specially focused Findom session, Trained and Drained, that a number of devoted followers have been literally begging Me for. So, Wicked Domina is taking over this week. I will be using your addiction and cravings for MY benefit, having you spoil and pamper Me. From the price of the session, you can see I want only those who welcome and embrace the arousal of this unique "fetish" that brings the deepest feelings of complete, helpless enslavement, submission and need to please. Or maybe you want to test your limits?...Maybe just listen for fun?
What greater loss of control is there than to be financially enslaved, satisfying those deep cravings to serve, to please, to beg for My attention and approval. Living your Mantra every day, not just in words, but in deeds...Working for your Domina, taking care of Me, taking care of My needs. Living in the arousal of being used for My whims and desires. Proud to literally be able to say "EVERYTHING i do is for You, Domina"... having supreme trust in the Mistress you serve. And you know for certain that I have My limits not to harm you or keep you from your other responsibilities and commitments. I will always look out for you...SO if you want to listen to the "TRAINED and DRAINED", do so with caution. This is NOT A REQUIRED SESSION. (If you are thinking of listening and are not certain, you may contact Me for more DETAILS.)
I know how much you enjoy serving your Domina. The session offers you TWO options as a safety net...
in fact, you can just listen to this sexy session and take it no further, then listen to it over and over... It's very HOT! But, again, may cause an unwanted FETISH in some listeners.
UPDATES
Lady H is working on a new session and her very own picture pack. I think some have had an opportunity to speak with her recently. She is doing well. She does help Me a LOT in the background.
If there is anything you see Me wearing in the photos that you think is a MUST Have for you, contact Me with your offer to purchase it. Or, if you are a li'l sissy, maybe you want to wear it.
What a terrible thing....O/our hearts go out to all those that are suffering in the Ukraine and throughout the world. Send your LOVE and THOUGHTS to all those in need.
NEXT WEEK Yes, I'm taking you back to the laboratory, My guinea pig. Are you ready to sign up?
This week's special deals:
Tranceformation - Sissy Puppy --
Horny puppies love to hump!
Deja vu--The Indoctrination --
I am going to adjust your thought process, yes totally f*ck it up.
Pandora's Box --
The contents of "Pandora's Box" are so mysterious--you have a burning desire to know what lies within...