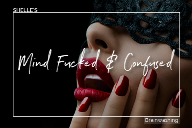 I am the Mistress of your mind.  Do you remember what I did to you in the blackness of the Dark Room?  Twisting your reality until your warped mind slid ever deeper into My Dominion.  I wonder what happens when I take you into a deep BLACKNESS of My DARK MAZE with this week's BOTTOMLESS VOID - Mind Fucked and Confused.
It's darker than before.  This trance was hard for Me to record.  I had to really concentrate.  Now, I can't wait to see what happens when you listen.  Will it produce deeper hypnotic indoctrination and subjugation with a seduction for submissive obedience?
It's so much fun fucking with your brain.  Just think, with you so deep in trance, I can do anything I want.  I may brainwash you... I may program your blank mind and place you in a state of sheer bliss and loving pleasure with an explosive desire to submit even more.  In the middle of your day, as you make real life decisions, you may be hearing My voice in your head, telling you the choice you need to make and wonder if you decided or was it My suggestion you followed?  It doesn't matter...this session will be a perfect DEEP TRANCE.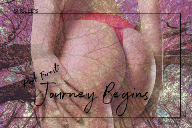 SISSY TRANS-FORMATION
At last, that special session I have been promising My sissy gurls.  The Pink Sleeping Forest is O/our perfect place of beauty, happiness and love for your ongoing Trans-Formation.  Sink for My passion.  Follow Me to fulfill your overwhelming desire to have your Princess lead you into a complete Transformation.  you are going to love bathing yourself in My bubbly magical pond with it's transforming powers.... shrouded under My PINK mist.  This is your destiny to be soft and delicate, smooth and feminine, My beautiful and desirable Sissy slave.  This is ONLY a beginning, My plan is to make this a NEW Series for your successful sissy Conversion.
CHALLENGE TO PLEASE
you have been so supportive and helpful to Me.  you know I work hard to bring you the best experiences.  This is the time of year for Me to begin thinking about setting funds aside for My yearly Retirement contribution through My Challenge To PLEASE.  And Please Me you will with a contribution you can afford to help with My future financial security.
UPDATE
Thank you for your Xmas giving from My Wish List for the needy family W/we are helping. Almost all of the toys have been gifted...That makes Me so happy!
Speaking of Xmas, I will have some SPECIAL Christmas SURPRISES for you as you start making plans for your generous Christmas gift giving. Yippee! ~giggles~
NEXT WEEK---W/we will be exploring some interesting possibilities.
For My special deals ... I am keeping several packaged files on special for a couple more days.  Check them out!