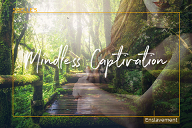 My voice is SIMPLY irresistible and so enchanting. you would follow Me anywhere as you have proven so many times. Yes with BLIND TRUST you become My PREY and this makes Me very happy. So as a little reward, this week I am taking you into daily life. You will understand after listening. When I bring you deep into trance with Mindless Captive, I will transport you to a special very EXOTIC place as your guide into your true reality.
Every word I speak is alluring to you. your Domina has the voice of a Siren. My voice attracts your mind. your mind becomes more and more open to my influence. your Domina is a Siren and a snake charmer who will shimmy and sway Her hips and charm that "snake" right out of your pants. Giggles. Can you resist? Are you curious?
I won't tell you the destination. I will tell you ONLY how I plan to get you there. I'm going to hypnotize My slave into the deepest state of trance. you are going to fall into a black HYPNOTIC abyss. This is what will happen as I take you to a mental destination of intrigue and EROTISM. Then I am going to challenge you. It's going to be amusing to Me as I watch you, like a stalker in the night ravishing Her helpless prey. you will be ensnared and ENTRANCED. My sweet, I'm a POWERFUL HYPNO DOMME and world renowned in EROTIC HYPNOSIS. your fall is inevitable. Now cum and take My hand and take another BLIND JOURNEY with Me as your guide.
PICTURE PACK
Recently, Lady Helena did a photoshoot for your Domina. Just an excuse to lure you into My bedroom and spend some time in bed with Me with My NEW Summer Sexy Pics, for whenever you miss Me and need Me.
UPDATE
Yippee! I'm leaving to visit the Farm Friday morning at 6am. I can't wait to go back to My home sweet home again. I am so looking forward to seeing everyone and just being back in My town. I know how much you always miss Me so I'll be here with you daily. So don't you worry about that, My baby.
On the 4th of July, celebrate your COMPLETE dependence Day, DEPENDANCE on your Domina. Be careful whenever you leave the house. This Covid is still spreading and infecting. Wash your hands a long time and often. Wear your mask and stay a safe distance. you know the drill.
I have Wellness Month 4 ready for you to follow. This Covid-19 is still a threatening challenge. So stay safe and cautious and use this time to make healthy choices in your life.
NEXT WEEK
I am taking you on a journey for some brainwashing and mind control training. I'm not sure that I have ever written such a MIND Fucking session...It's a wild ride to say the least.
My special deals this week:
Sissy Maid --
This SISSY session will push your LIMITS into the most sexy submission...
Behavioral Conditioning - Permanent Trigger #1 --
My control is becoming stronger...
Mermaid Seduction --
A very erotic mermaid seduction...