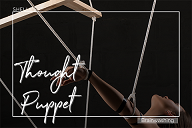 you are not your mind. you are a thought puppet to My voice. This may sound very confusing to you, My puppet, but I will be explaining it to you this week with Thought Puppet. your thoughts are the words I speak. you are nothing but empty and blank for Me to make you who you need to be for your Domina.
Let's take a very common occurrence. your mind is wandering and all of a sudden you are thinking about Me. Maybe something triggered that thought. Or you just heard My voice in your head and missed Me.... Or something reminded you of My pictures, some obsession you have about Me. My pet, I have conditioned you to need Me and think of Me all the time, to want what I want, to think what My words tell you to think and be.
This session will make clear that you are not your mind. you are a thought controlled by My will. I will make you understand things from My point of view and you will realize that My words are hardening, tightening their grip on you. It's so sexy just knowing that My words are becoming your only thoughts. As you hear those words, it only tightens My control over your mind and body. It's Me that controls and gives every deep sensual feeling that comes over you when you think of Me and feel so weak and helpless. Right now your c*ck is starting to throb for Me. But you obey when I say STOP. your ultimate pleasure is only allowed when you ACT and SHOW how devoted you are to Serving Me. Stroke Tribute, anyone?
UPDATE
LOCTOBER is just around the corner. There will be a Sign Up next week with more details if you will be participating. Oh yes, you will, My Chastity slave!
Finslave, I have something very special cumming just for you in your email very soon.
There will be a New sexy Picture Pack at the end of the month to stimulate your....
Visual senses. What did you think I was going to say? ~giggles~
NEXT WEEK
Next week, you learn the many benefits of blind Trust. Plus, the sign up for this year's LocTober.
This week's special deals:
The Puppeteer --
your Domina's puppet, helpless, limp and controlled BY MY silky strands of strings...
Misdirected --
Misdirected---EXTREME CONFUSION...PERFECT for you.
slave Puppet --
I will take you to new heights of serving and pleasing your Mistress.