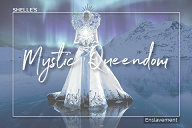 My sweet, you think of Me as many Personas. I am Domina, Princess, Mistress, Owner, the Dominant Woman you Love, even, Nurse and Farmer's Daughter. This week it only seems appropriate that I bring you, My loyal servant, into My Mystic Queendom. This place where My words are the law. I rule My land and subjects as a benevolent Mystic Queen. I will take care of you, My subject.
The Queen ALWAYS gets Her way, even if that means putting your conscious mind to sleep and implanting My thoughts into your subconscious mind....It's like taking candy from a baby. I have you conditioned and open to My will. It almost seems that you have lost ALL resistance after all My training. Just the way I always planned it.
My sweet, some ask how can I create a FEMDOM HYPNOSIS mp3 session every week. It's hard work for a Queen, but I know that you constantly need My words for reassurance and comfort… My words come in so many shapes and forms....This time My words come to you as a "Once upon a time" story adventure about a beautiful Queen who ruled over Her subjects and lands. My words work perfectly together to do exactly what I want to accomplish. It doesn't matter how I enter your mind, you always let Me in. Just let those walls fall and accept that My words as your desire.
I will be watching over you, protecting you, and guiding you towards success and health...even when you don't know that I am there. Please Me and obey the rules of My Queendom. This is your purpose. Put on your headphones and prepare for a HYPNOTIC MYSTICAL journey hand in hand with Me. I'm about to take you away again...pure HYPNOTIC BLISS.
ASSIGNMENT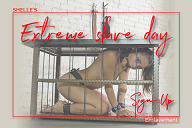 I am putting together your full 10 hour EXTREME SLAVE DAY ASSIGNMENT to give you a true sense of enslavement. This obedience training Assignment will give you the opportunity to express your need for submission and complete obedience to My ultimate control.
Here is the SLAVE DAY-SIGN UP for the Assignment so I know who is participating. It will explain the day, how it works, what is included as part of the package and what you would need to prepare for it. By signing up you know you can set aside 10 Hours of your choosing, when you have PRIVACY to give Me and experience what REAL TIME slavery training feels like. This is perfect for all slaves.
Here is My Month 7 Wellness Challenge. In some places this pandemic is as bad as ever. So, commit to making these healthy lifestyle changes and be on guard against Covid and ALWAYS protect yourself.
UPDATE
I am also planning one week of Chastity LOCKDOWN later this month. So prepare to give Me a week as My chaste, obedience slave. Watch for updates. Some of you are doing the full month of lockdown...I am pleased. If you choose to do a full month of LOCKTOBER LOCKDOWN, the series is in special deals. All you need is in there for first timers.
Thank you for your contributions to My CHALLENGE for My weekend getaway to the beach. I love the beach and sun in the summer and the solitude and waves in the fall. Now to make the plan. YIPPEE!!!
And thank you, contracted. your appreciated monthly support is what makes all this possible.
NEXT WEEK you'll undergo My "Fusion" which will forever bind U/us together...
My special deals:
LOCKTOBER - CHASTITY LOCKDOWN Series --
This is the COMPLETE 4-week LOCTOBER SERIES. Can you do it?
A Sissy's Tale --
A story of blind obedience and transformation...on the EXTREME side of sissy fantasy...
Master Conditioning --
"Utter bombardment on your brain"
Pocket Pet --
Follow Me to a world of sexual fantasy...