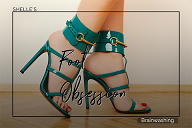 My hypnotic Subject, it's so good to be back home sleeping in My own bed after all the travel, hospitals and 3 twelve hour shifts. I am rested and have this most delightful session for you, today. Right now you don't need My ongoing mind conditioning. you are already well trained to listen and obey whatever I tell you to do. I am your Mind F*cktress...slayer of your heart...Keeper of your thoughts.
So, with this week's Feet Obsession I am going to play with you and maybe f*ck up your mind a little more. Do you find yourself doing or thinking about something over and over again? And, you just can't help yourself? For Instance, you can't stop thinking about Me. I've taken over your brain and I am all you can think about. This is NOT about a simple fetish, it's about ABSOLUTE SUBMISSION.
you have become dependent on having Me at the center of your life. you need Me. you can't get enough of the pleasure and arousal only I give you. This is what addiction looks like. your enslavement to your Domina is the positive addiction in your life. I bring you pleasure, I make you happy. I make you better.
This is the context I want you to have when you listen and fall deeper into submission just by dangling My foot back and forth. My feet...and toes will become so real and mesmerizing, you find yourself responding as a slave to My feet. you will find youself completely LOST in submission to your Domina.
you may even find yourself wanting to give your Domina a gift pedicure...Giggles
UPDATES
I really appreciate how you have helped Me through these tough times with My travels to help My sister back home. And now, look at you, you're helping contribute to My early retirement from working to being a full time Princess with your contribution to Challenge to PLEASE. I know how much you love to Please Me.
And, I have lots of praise for My special findom slaves who are working HARD and taking good care of Me, so I am allowing the supreme pleasure of sending to spoil and pamper the Domina you worship, serve and obey. I am your # 1 priority and you love to please Me by submitting tribute for My orgasm control.
NEXT WEEK What will I do to you? Let Me see what I'm in the mood for....
My special deals this week:
slave Weaver --
Her spell weakens you, Her voice seduces you...
Exploited --
A MIND fucking EXPLOITATION.
Hypnotized and Mindless --
you will be mind fucked for Me...you are My hypno slave.