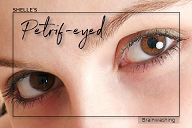 My pet, It's Thanksgiving next week and I'm already thinking of spending time with you for Christmas.... Will you be available? ~Giggles~ But this week, I am making a transformation back in time with the story of Medusa, the Virgin Handmaiden to the Goddess Athena, in Petrif-eyed. She possessed great beauty and all men lusted after Her. But out of respect for the Virgin Goddess Athena, she remained chaste, a theme both you and I are familiar with. I'll let the story explain what happened to turn Her hair into snakes and gave Her eyes the power to turn any man, permanently, into stone who merely looked into them.
Listen as I come to you in the guise of Medusa, but the Power of My eyes are used for a different purpose. My subliminized messages will be planted deep into your subconscious mind as I manipulate you into sleep...I do this for a reason. Every session has a plan... recently it was My legs that addicted you to Me. Now is a plan to INDOCTRINATE you and PROGRAM your mind to be easily used for what I want, which is exactly what you want, My happy puppy. you are becoming more unable to stop thinking about Me as you are Mesmerized by My eyes.
SPECIAL GIFT - While I was recording this session, I decided I wanted to record a Pretrif-eyed Part Two as an extra special pre-Thanksgiving gift. So I made Part Two very sexy to keep you addicted to your Domina through the whole holiday season. So you get TWO for the price of one.
UPDATES
Here is the link to MY photo pack, The Eyes Have It. I've had such a tremendous response to revealing more of Myself in this latest photo package. So many tears of joy and happiness. I'm so thrilled to feel your love and devotion.
Many thanks to all who helped with Dress Me Up. By now you should have gotten My gift package with My JOI! Email Me if you haven't received your gift yet. It's not too late to Dress Me Up and I'll send you a gift with the contribution.
THANKSGIVING
In case you ever wondered, My Erotic Hypnotic World is very real to Me. As W/we have spent all this time together, I know you so well and you are very dear to Me. I'll have Thanksgiving with My family here, but on Saturday. Yummy, turkey and duck with all the trimmings. But I'll be working a Thanksgiving shift, so that some mommy can be at home with her children for Thanksgiving. But don't worry, I never forget about you.
If you want a LIVE TALK I will set it for NEXT FRIDAY. (I'm offering LIVE face to face for Friday between 1:00 and 4:00. Contact Me for DETAILS! Then, when I have My late shift, you can send Me your lunch money. Giggles
W/we adopted another family to help for this CHRISTMAS like W/we have in the past. Next week, I'll give everyone more details on how W/w can help the parents get presents for their 4 children with Amazon gift cards from My Wish List that will be for O/our adopted family.
CONTRACTED, by now you should have gotten My November message and this Month's special "conditioning" Video. Are you feeling weaker for Me? Good! And you've seen the new pictures I've added to the SFS website.
Don't feel left out. It's easier than you think to go all the way with your Domina. Just email Me about a Slave Contract, and I will answer all your questions.
NEXT WEEK I am taking some Panty pictures and will make you an offer you can't refuse. I am also thinking it over and My next session.....mmmm you'll have to wait and find out.
Today's Black Friday special in special deals....