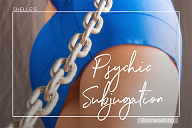 My puppy, I'm so happy that you're here again, ready to receive more of My beta male training to make you better for Me. I know how much you love it when I condition your malleable mind making you feel so helpless and weak for Me. This week's Psychic Subjugation might be more intense than usual, but I have prepared you for this deeper level of enslavement. This is what you want. This is what you live for. I am the QUEEN of CONTROL! you are silly to even TRY to resist.
I am bringing all your desires, your submissive need to Obey, your emotions, your arousal and ultimate enslavement more in alignment with every fiber of your being. you think of Me all the time now, with your first thought of each day. Then throughout your day, your mind wanders back to Me and you feel My loving presence. your ownership arouses you as you need to listen to My voice making Me more indispensable to your happy and productive life. you are bonded to your Domina in Love, motivated with Honor and trained to Obey.
W/we have the perfect relationship that is truer and more real to who you want to be, My devoted slave. you Love, Honor and Obey Me and have put My desires above your own. you are who I want you to be, doing what I tell you to do. I am your EVERYTHING. your greatest desire and pleasure cums when you serve and please Me. This is what you were born for. Follow My instructions as it all CUMS together...and feel the pleasure of being My slave, doing what you're told, being nothing else except My slave.
PICTURE PACK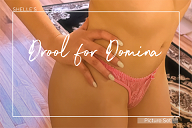 Just in time for a more vivid climax to this session, you may use Drool for Domina, My new sexy pictures, to drool over. I am at the center of all your sexual fantasies... One more way to bring Everything together.
UPDATES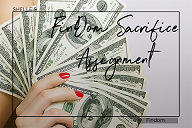 FinDom slave I am gathering your responses to the FINDOM SACRIFICE Assignment to bring you into a more personal one to one relationship with Me for your ongoing training. I look forward to your service and obedience.
I am also keeping track of new reporting on your Clinical Trials.
Thanks to all who enjoyed shopping for Me and sending your Savings with the VOLUNTEER SAVINGS Assignment. I haven't decided what to buy with O/our savings, but I will send you a note when I do. It's always a good time for this Assignment. Tell Me something, wasn't it a lot of fun just working on saving for your Domina. Maybe I'll sneak away to the beach soon...giggles
Guess where I'm going in about 2 weeks? Hint: Going somewhere special with My niece.
NEXT WEEK
So, for next week I have decided to use the beginning of the month to focus on My Contracted and sissy slave. Watch for details and SURPRISES.
Check out this week's special deals:
Hocus Pocus --
I am a POWERFUL dominant woman that uses magical words to seduce vulnerable submissives...
Bound and Helpless --
Lie back and embrace your future because there's no resisting what I have planned for you.