In this week's session, REALM OF Unconsciousness, I take you into a world of relaxation and pure bliss.  Travel to Infinity....Fall into another realm with Me.  I am using a technique that is quite different from My usual inductions to take control of your subconscious mind.  Isn't that sweet?  Here I am telling you what I am going to do and show you the power of hypnosis, MY HYPNOSIS.  I'm letting your conscious mind know because you've lost all resistance to Me.  you need to surrender, to belong to Me.  you want to please Me, to serve and Love Me.
you are so aroused right now and excited to see where this new session will take you.  I want your conscious mind to have an explanation of what will happen to your subconscious mind.  I want you to be ready to concentrate on what you are feeling being under My control when you stroke for Domina.  To feel the intensified pleasure when I give you instructions and My permission to C*m for Me or to stay in Chastity.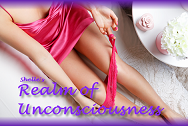 So here is this technique, referred to as the ABS formula, which stands for Absorb attention, Bypass critical factors and Stimulate with suggestion.  I get your attention focused on a THING...then I will bypass your critical thinking by getting you to relax and let your guard down.  Then I'll suggest what I want you to do and you will easily do it, because you always follow My voice.
I'm spending more of My time programming your mind.  I'll be using more NLP anchors.  Neuro-linguistic programming.  Let Me explain.  When you hear a certain song, you may be taken back to a certain time in your life and feel those emotions.  Whatever the feelings, each time you feel them again.  This is where I come in.  I will create anchors and connect them with good feelings in order to make you happy and to make Me happy too.
I had a difficult, but pleasurable experience making it through the recording of this session.  Emotionally and physically it took a lot out of Me and a while to recover.  This was something very sexy for Me and you reap the rewards.  Now you may go and stroke 5 minutes and do not release...An anchor to your desires and all that swelling, keeps Me in your mind.  Giggles!
UPDATES
I am so pleased by your responses to the SFS QUIZ.  your sincere expressions of love and devotion are so gratifying to Me.  How important I am to you.  O/our relationship has never been stronger.  you realize how lucky you are to have Me.  you want to be My good boy.  you love My personality and beauty and love to please Me.  you are aroused by your submission and obedience to My domination and control, stroking for ME or remaining hard and horny in Chastity.  you love My brainwashing and storytelling and My voice telling you what to do.  you wish you could serve Me IN PERSON.  But by embracing your opportunities to take care of Me, the way you do, is the next best thing to that.  And I appreciate it.  Also that your being available to Me through My Volunteer Assignment.
you want more assignments and personal contact.  I will be working on more assignments to include as part of these blogs.  But first, for My contracted slave, look for a Mantra assignment sometime next week.
I have posted two new Videos on My YouTube Channel.  Take a look if you haven't already.  And thanks to those who have left comments.  Kisses.
NEXT WEEK----Let's just say----confused...
Check My special deals ....
Behavior Modification --
A compulsion...highly addictive MIND FU*K. you NEED and DESIRE to listen...
Lucid Dreams--Set --
Have the Girlfriend Experience...Lucid Dreams...Set of 3 files.
Programmed --
A perfectly PROGRAMMED slave is what I want.