See how I MAKE YOU HAPPY with the Powerful Idée Fixe - My Prey.  The 4 words that are changing your life.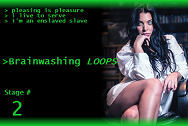 This week is a fitting follow up with Brainwashing Loops - Stage 2.  you've just finished "Brainwashing LOOP Trainings - Weeks 1-4".  The PROGRESSIVE brainwashing was amazing in this first STAGE and so effective, so guess what, YES, I have 4 more weeks in this series of Brainwashing LOOPS all aimed at totally brainwashing you into whatever I want and need...Brainwashing you eventually into a total MIND FUCK.... yummy.
Hey, do you know the TRUE meaning of MIND FUCKED---A mind fuck goes beyond destabilizing your beliefs or your current notion of reality.  Think about the idea of fucking with someone's mind and the implications of phrasing it that way.  A mind-fuck is deliberate and it can be confusing or manipulatory...It is well known that men especially love it when inflicted by a Dominant sexy woman...So My sweet, go ahead and listen to your next STAGE of BRAINWASHING Loops.  you will LOVE it!
Is it true, there is never too much of a good thing, even if you'll be walking around for the next 4 weeks with an erection? ~giggles~  YES, there will be a STAGE 3.
The human body is remarkable. Let Professor Shelle explain. The brain, an organ, controls the functions/systems of your body. The Mind gives us consciousness and shapes who we are. The Mind's three levels, Conscious, subconscious, and unconscious. The subconscious mind, connects the other two levels and makes everything work. The Mind's three basic functions:  thoughts, feelings and desires. An example of how the mind interacts with the brain...your mind has a thought, an erotic fantasy, and the brain carries that thought to your penis, and you feel pleasure.
This will all make perfect sense as you listen to the 4 "CONTROL" loop sessions INCLUDED in Stage 2 of the BRAINWASHING loops.
Be sure to follow instructions that are INCLUDED in the description.
UPDATES
Remember instructions in the Puppeteer file.  On the 12th for 3 days you will listen to Puppeteer.  Then by the 15th I will give you the opportunity to beg Me for permission to cum....you will email Me with Begging in the heading and specify what you have done to please Me, so I can decide what I will do.
With the Useful Assignment, I got your "very interesting" responses.  USE is not a tainted word.  We both get something important to each of U/us out of this.  If you use Me for relaxation or stress relief, to fulfill your need for submission, obedience, control, to please Me or for pleasure, arousal, orgasm that's how it should be.  If you orgasm, turn over and go to sleep, you've done that for yourself, not for Me or wanting My permission/control.  That comes when I see you have done something for Me to acknowledge your need for My permission.  One simple way is your Stroke Tribute or doing whatever else I may be requiring of you.  And to really please Me, do it without being told.
I'm interested to hear your reaction to the Zen version of Idée Fixe -My Prey with the addition of music.  If you haven't, do a review and let Me know.
NEXT WEEK
Next week's session, The Cinderella Story, your hypnotic desires and fantasies all cum true...taken /well kinda captured.  It'll be so arousing having you begging at My feet for.....sexy glass slippers...hummm
I'm also going to be giving you an assignment for Summertime Fun.  Take Me along on an adventure in your hometown.  I gave out a similar assignment about 3 years ago.  This will be fun.
Check My Specials ...