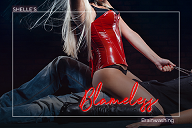 Welcome to Week 3 of LocTober, a good time to reflect. My sweet, have you ever stopped to think of how much your life has changed since W/we met? Have you ever wondered why there are so many changes? you think of Me as one of the best things in your life. The time you spend with Me is the best part of your day. Giggles! My baby, just stop trying to think...This is all My doing. I did this to you...and I'm NOT finished yet. I'll explain it all in this week's NEW Blameless. (FOR EVERYONE) you had and HAVE No choices. Isn't it sweet? I'll tell you what to do and you do it and you will listen to this session and you will do it with absolutely no THOUGHTS, no doubts, NO hesitation. I am giving you what you want and need.
I have stolen away your free will. Yes, I am the THIEF, you are BLAMELESS. I have altered your thinking. I have reprogrammed your conscious and unconscious beliefs. I have enslaved your will by infecting your psyche with My desires. I have enslaved your mind by binding your will to My words. you have been indoctrinated by My teachings. I have programmed you to obey. My sweet, you are going to LOVE this session...It will lull and transport you into another world, My world...you are weak for Me, it's not your fault. I did this to you. I want you to be happy with your devotion and commitment to Me just as I am so happy and pleased with your TENDING to My needs.
This week's Lockdown, LOCTOBER Week III--Extreme Dissociation is a perfect Mind Fuck and it works so well with being chaste for Me. (This Session is also good as STAND ALONE- for EVERYONE) I am using this experimental hypnotic technique associated with Dissociation Theory which causes a person to split his consciousness to simply and easily Obey. As I control your subconscious mind and will, I now am taking control of your body, your physical self as you surrender all control of your sex COMPLETELY to My commanding instructions. Yummy!
you should realize by now, My puppy, that Loc-tober LOCKDOWN is all about O/our relationship... about how I use Chastity to help define both sides of this relationship... Domina to slave and you to your Domina. With My continued brainwashing and re-programming I make sure there are no restrictions that get in the way of more obedience and more submission to Me. And Mental Chastity is a good way for My devoted slave to integrate Me PERMANENTLY into your life and accept that it is My pleasure that matters. you live a selfless, fulfilling life dedicated to your Domina and that brings you everything you need... purpose and true happiness.
If you do not already have Week-III Dissociation, get it now. The LocTober Week III-Dissociation Assignment was sent to all who signed up. If you signed up and do not have the assignments, email Me.
This session is so sexy, Be My useful lab rat. Being useful, with the many sacrifices you make to PLEASE Me, truly strengthens O/our bond and intensifies O/our emotional connection so you will experience true bliss.
As a puppet on My string it brings the unique pleasure of being obedient and controlled in Chastity when you just do what you're told. With CHASTITY, everyday you have the submissive pleasure of following all My instructions and being more useful to Me​. I am always in your mind, always pulling your strings, showing you how you can be so aroused and at the same time, completely satisfied being Chaste for Me.
UPDATES
I will be driving home on Saturday. A short stay but I got a lot done. Wow, that's My only reaction right now. My sister was so happy when I took her for her mani-pedi. I'm doing all the things she can no longer do for herself. Yes, even shaving her legs etc and keeping her hair beautiful...dressing her. It's a LOT to care for someone in her position. But, I do it out of LOVE and DEVOTION. Just as you care for Me out of LOVE and DEVOTION. W/we are selfless when it comes to those W/we love. Aren't W/we! And speaking of being useful, send a Challenge To Please to share in My expenses. Love you.
NEXT WEEK
Congratulations. LOCTOBER Week IV.
Here are this week's special deals:
LOCTOBER 2023 Chastity Series --
The COMPLETE 4-week LOCTOBER SERIES.
Sub Bot --
This is what I have always wanted, a sub bot of My very own.
Focus --
This session is very powerful and somehow creeps up on you...
Brain Fried --
An erotic and sensual experience...But, with a little twist of fate...