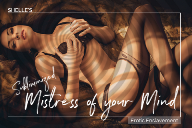 My pet, is there anything better than the feeling of a sexy wicked woman taking away your last bit of resistance...taking over your subconscious mind and leaving you vulnerable and completely open for whatever She wants to IMPLANT into your brain.  SEXY, isn't it....oh, so easy, the way I can prepare your subconscious mind to absorb all My subliminal instructions...especially in this week's Subliminized-Mistress of your Mind, instructions you aren't even aware of.  you have become so conditioned by Me that I simply whisper into your programmed mind and permanently insert My suggestions.
It's so arousing to give up control, that is why you do it so easily and willingly.  I am your addiction. I am pleasure.  Being so weak for Me arouses you.  When you are horny, you focus everything on your Domina.  Just the way I like you, My slave, aroused and submissive serving at MY feet, desperately longing to be controlled and dominated, doing whatever I command.  you are submissive to My control.  you just can't resist Me.  I am your obsession and pleasing Me is all you want to do.  your need to serve compels you to make Me happy.  And that makes you happy.
Get SUBLIMINIZED NOW...plus I have placed previous sessions in My Special Deals.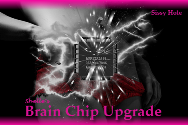 And finally, I have something special for My sissy slave with Sissy Hole-Brain Chip Upgrade.  W/we'll have great fun playing with this. ~giggles~  Sissygasms coming soon.  This is also for anyone who wants to "stretch" your limits under My instructions.
CHALLENGE TO PLEASE
This week the best way to serve and make Me happy is with your contribution to My priority, Challenge To PLEASE.  Only one week left to help Me reach My goal for future financial security.  Feel selfless and make that EXTRA effort and sacrifice to PLEASE your Domina.  I will be recognizing My top contributors.  If you contribute, I will thank you, personally.
UPDATES
NEXT WEEK---wait and see....no telling what I'll come up with as I walk around the farm.
My special deals ...