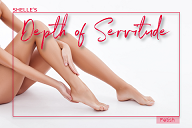 Let's turn up the HEAT a bit more this week. My puppy, what is it about My feet, whether bare, in stockings, heels, or in boots that makes you feel sooo submissive, obedient, weak and aroused? Think about that when you Listen to Depth of Servitude. Find yourself just where you need to be....where you belong… Bring your leash and crawl to Me, naked on your hands and knees. Do as you are told, My sweet OBEDIENT one.
Yummy, I create the perfect fantasy for you, My pet, with My voice, sometimes sweet, always mesmerizing and seductive and with My descriptive words and vivid imagery. Satisfy your yearnings to please Me with your MIND MUDDLED, addicted with sexual desire, obsessed to obey whatever your Domina wants. Mesmerized by your new addiction, you will be HYPNOTICALLY enslaved by Me for always. your REWARD awaits you.
With deep erotic hypnosis I will use your new sexy obsession to condition you into deeper submission and complete obedience with a craving to serve and spoil your powerful DOMINA.
you can't live without My guidance. you will download TWO VERSIONS, but you won't know the surprise ending until the ending. I just love giving you a choice. Giggles!!!
But you will give Me your lunch money when you hit the jackpot so W/we will both enjoy the happy ending. ~giggles~ you will have to Satisfy your burning desire to lay your Offering at My feet, slave.
Listen now!
SISSY PLAYGROUND TRIGGER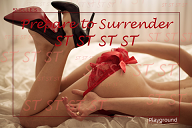 I never want My favorite sissy hypno gurls to feel neglected. So now is the perfect time for you to cum play with your Princess in My Sissy Playpen with Surrender ST. I won't give anything away except to say that My commands are your instructions to put into immediate action when I want. your Obedience to My Domination is what you find so arousing. That's why playing with Me on My playground is so much fun. These Triggers are excellent training for you, My lil sissy slave.

UPDATES
After listening to this week's Session, it may remind you about your need for a pair of My worn nylon STOCKINGS to use while you...Just use your imagination ~giggles~
Remember My Challenge To PLEASE new Savings priority, helpful for My next brief weekend getaway to the Beach "BY MYSELF". Yippee.
Contracted the new SFS slave story is posted.
NEXT WEEK So you think you are living your reality right there where you are? Awww, reminds Me of a song...we found love right where we are. Have you heard it? Next week find out how wrong you can be.
My special deals ....
Hypno-Persuasion --
you will know just how invasive My control is...
Brainwashing Loops - Stage 2 --
The progression of My BRAINWASHING LOOPS will inevitably leave you MIND FUCKED...