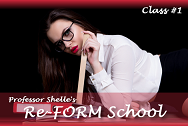 After a week of living in My erotic fantasy world of Cinderella and with all the brainwashing that I have put you through, I want to take a week to TEACH.  I am bringing you back into My classroom for the HARD facts of life.  men, Women, sex, the Real facts of life with Professor Shelle's Re-Form School, changing male behaviors one man at a time.  Yes, Professor Michelle Rivers is teaching this obedience lesson for boys and girls.  This class is an INTRODUCTION for you to possibly earn a degree from Shelle Management University for good little obedient boys and girls, Department of Unethical Behaviour- Modification Division.  So many ways to train and make you MINE!
My INSTRUCTIONS are required for your continued training and overall EVERYDAY life.  Some say that what I teach is controversial and unethical...I say, come to class and hear the TRUTH.  you will be taught facts and you will learn so much about your future with Me and what to expect from the POWER of the Dominant Women in your life.  Oh, did I mention before class you will be deeply HYPNOTIZED and RENDERED helpless to resist My teachings. Giggles~~~
This is a classroom experience your fantasies are made of.  EXTENSIVE Brainwashing, MIND Control...addiction and OBSESSION...using all tools in My hypno arsenal to create the perfect male.  your full attention will be focused, as always, on your sexy Professor.  But no zoning out on My legs, ass or My sexy feet!  Attention is required.  The truth may NOT set you free, which is not what you want, anyway.  It will leave you NEEDING to relieve the swelling or you may keep it all day long.  For now, I allow you that choice.  If you LOVED Shelle's School For men, then get your ass in the front row seat when the bell rings.  Expect the unexpected!
This is the start of a 15 class series.  About one class per Month.  See, My pet, I have very long term plans for you.  And, My contracted, your training is going to be especially tightened up.  If you are not CONTRACTED, now is a good opportunity.
UPDATES
Sunday is the first of the month.  Remember, I have you scheduled for orgasm release on the 1st of every month, after listening to Chemical Sedation.  Also listen to Brainwashing LOOPS-Stage 2, especially LOOP 4 -- "I have a hard erection now because I am under Mistress Shelle's control.  I can only have an orgasm under Domina Shelle's Control."  I have it in My Special Deals.
If you are NOT under contract to Me, when you orgasm, I expect to see your Stroke Tribute for My permission.
NEXT WEEK---We will CELEBRATE the 4th of July...HUGE plans to BBQ and watch fires works.  I'm so excited!
Next week, keeping you in suspense ...
Also, next week I will have that exciting audio book I recorded from one of My sissy slave stories.  The personal story of mental and physical transformation from a male to female.
Check My SPECIALS ...