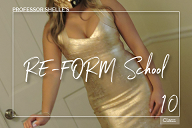 When you get comfortable and listen to My voice, you become so naturally suggestible and eager to obey all My instructions.  Admit it.  This is your favorite part of each day.  Being submissive to My control is so arousing.  This makes you feel very much like My slave...  It's so Real to you in that moment.  Aroused in the pleasure I give you, you say to yourself, "I would do anything for my Domina."  you may be open about your submissive life with your Powerful Sexy Domina.  Or this may be a very secret part of your life that no one else knows about.  But you crave and yearn for it.  I am your addiction.  Thinking about Me, overwhelms you, your need for a deeper enslavement grows more and more.  you need Me.
In Reform School-Class #10--Domina's Management, W/we will explore together your participation and commitment to this deeper enslavement through a new mindset to a REAL life of Servitude.  Sounds exciting, doesn't it?  Imagine your life as My live-in slave.  Waking up each morning at the foot of My bed, with your first thought:  "What can i do for my Domina, today?  How can i offer myself and my services to make Princess's life better, easier and more pleasant?  What instructions will She allow me to obey, so i can please Her.  How can i be Domina's slave worker?"
Surprise Me with a banner or a review...maybe A contribution to My Challenge To PLEASE now is ALWAYS a perfect answer to those questions. ~giggles~  But don't worry, I will be adding lots of little and big opportunities to Please Me.
That, My pet, is the mindset of a submissive wanting to be My perfect slave.  Of course, these options and your personal needs for My "Management" will be flexible to fit the limits of your home and work reality.  But My goal is to have your living as "real" a life as My slave as is possible.  This takes you beyond the time you are listening to My hypnotic sessions.  With My personal and direct control, I will give you opportunities to experience that deeper level of enslavement your having been craving for throughout your day.  This happens with your acts of servitude to Please Me.
Listen to the Class several times before doing the Assignment.  As I explain, your participation is to be completely voluntary.  So, just ask yourself what sacrifices you will make so you can truly say:  "i would do anything for my Domina."  After I review your assignments, I will be putting together a NEW section on the website for Management Services.  I'll be giving you updates.
UPDATES
Contracted with the 1st just a few days away, as you are allowed to Release, think of My hand as a "Management Tool" bringing you to your knees. ~giggles~
NEXT WEEK---A new way to Mind Control and Brainwashing--- I called them "Brain Calibration" files because they are designed to help your slave's brain to record the speech patterns of your hypnosis in order to fall more and more quickly to the sound of My voice.
My special deals this week ~~~
Mission Impossible Series --
The three part series... SEXY, HOT and a wild ride.
Blackout --
COMPLETE Blackout - DEJA VU
Mind Eraser--Zombied Blank --
Mind Confusion and complete BLANKNESS-Zombied.