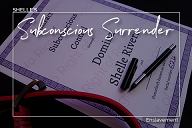 My sweet, I am so excited and pleased with all the love and gifts you're sending Me for My Birthday. you love Me, don't you? And I know you need Me, so I'm taking good care of your mind with this week's A Subconscious Surrender. I am guaranteeing that I will always be there for you whenever you truly need Me.
W/we share a very meaningful relationship. There is a mental and yes, a physical bond between U/us. I will allow you to sign over your subconscious mind to Me, as you bring yourself one step closer to the sheer bliss of My complete control. And what I expect in return is Exclusivity. This isn't like a GF or BF who was selfish and wanted all of your time and energy. This is about US and what W/we mean to each other. I know you want to feel closer. Let's talk about US...well I'll talk and you listen.
With this psychic contract, I, alone, own your pure, unadulterated subconscious mind. I am the only Hypnotist and Mistress you surrender to. I fulfill all your submissive needs. There is no one else but Me. I'm greedy and want no interference. Awww, I love playing with you, so that's all you need to know about this week's A Subconscious Surrender session...This is going to be fun, because I have already programmed you to agree. Giggles
BIRTHDAY CELEBRATIONS
W/we are celebrating one of the best days ever...your Domina was born to own and control you. I am so excited about My birthday next week. Does it show?
Thanks so much for all the gifts you have been sending Me for My Birthday. If ever there was a day to spoil and pamper Me, you have been doing it with My priority, Challenge To Please. I have even already gotten a few Birthday cards with My favorite, cash! Plus things are flying off My Wishlist....I'm gonna be spoiled. ~Giggles~ If you prefer sending something more personal, there is Spoil your Domina Shelle.
UPDATES
NEXT WEEK I'm going to take you on a lil Trip. you'll like the Ladies' Dept. Isle 4, panties and undergarments.
My special deals this week:
Dark Room - Oblivion --
Mental oblivion...
At My Feet --
Have you ever felt what it is like to be BELOW and BENEATH a Dominant Woman?