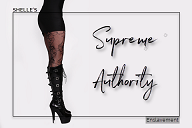 My baby, with all that's happening around the world, aren't you happy to have a Superior Domina in control in O/our private place? A place that I created for O/our escape. I am providing for you the life you need to live in servitude and enslavement to Your powerful Domina/Owner. My hypnotic spell is something you yearn to experience everyday. My voice and words explode your mind with ecstasy. My sweet, to prove My case just listen to this week's Supreme Authority.
O/our Dom-slave relationship is the one true constant in your life, with My control and Domination at its core. you think of Me all the time. This allows your submissive self to feel the pleasure of your weakness for Me. you have willingly surrendered all resistance to My power and crave the control and Domination of your Supreme Domina.
This is a session that describes and defines the HypnoDomme and the slave. you can think of nothing but Me. your mind has been enslaved by My hypnosis. you embrace your role to serve and please Me. I embrace My role to take charge and command you with My suggestions and triggers. you let the arousal and pleasure of submission and obedience to My instructions drive you to do everything you can to serve and please Me. I know you love and need Me. And after clicking and listening, see if you need Me more than ever... Just how it's all programmed out for you, My love slave.
UPDATES
I worked 12 hours on two of My three shifts so far this week. And now the weekend. The hospital is OVERFLOWED with patients. I'm telling you this to stress the importance of being smart, vigilant and safe protecting yourself and loved ones from COVID.
Thanksgiving and My upcoming trip:
We had a nice close family celebration on Thursday night. It's always so nice being with family. We are having an OUTSIDE meal on Saturday afternoon. This is another family event but this time with all traditional Thanksgiving dishes. Yummy, turkey, ham and duck. Looks like we will eat leftovers all week long.
My Tennessee trip is coming up soon...Only a week away. I'm looking forward to that.
NEXT WEEK
I'll surprise you...Giggles
While I'm away in Tennessee, I will have a one day Farm Assignment to keep you focused on your Princess.
See My special deals:
Behavioral Control--Suggestible Mind --
My words become like sex to your mind ...
Brainwashed-Trigger Reinforcers --
Beginning of Brainwashed Programming - Phase II
Brainwashed Phase II Series --
The Brainwashed Phase II Series: Steps 1-9