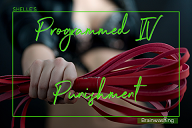 One of the reasons W/we have prolonged Chastity in Loctober is for all My followers to feel how powerful and motivating your need is to please, serve and OBEY Me. It is stronger than the secondary desire for immediate gratification. Chastity has the capability to amplify your growing addiction to pleasing Me and the power to HARDEN your dedication to being singularly focused on My happiness. I am conditioning you to experience the ultimate submissive bliss, the sensual overload and the erotic pleasure of complete obedience and discover the inescapable Truth that My complete domination and control of your sex is very REAL and what you crave.
With THIS WEEK'S New session Programmed - Punishment, I am adding a new dimension to LOCKDOWN to reinforce what W/we both want. As you listen over and over again, it is conditioning you to put your obedience to Me as your first priority. My puppy, you have done so well to Love, Honor and Obey only Me, but on occasion you may slip and give into your urges over My wishes. Now, any resistance to My programming will only make you weaker for Me and have you accept as natural My punishment as a training tool to obey Me even more. When you disappoint Me, the fear of punishment will be the added incentive to want to do more to please Me and meet My expectations of you.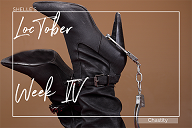 With the Loctober WeeK IV - Chastity Tease you will be mentally encased as I mind f*uck you with My Tease and Denial. It's really a lot of fun to play with you, My sex toy, and tease you into abdicating all rights to your sex and ride wave after wave of submissive bliss that only I can give you. Having you hard and HORNY, overwhelmed with EROTIC desires for Me makes Me wet with the power I have over you.
Down-LOAD Week IV Assignments HERE! -- Chastity Assignment & Sissy Chastity Assignment.
I know that sexual release is something that you are craving with the vivid sexual images you hear My voice describing for you. But even more, you accept being locked away, chaste and completely controlled because that's what I want, My slave. your need to Please and obey is becoming overwhelming as you listen to these sessions daily. There is nothing better than a slave who is desperate to serve your Mistress. And as you get ready for your RELEASE from chastity you will focus on pleasing ME with your servitude to help care for My needs and well being and make My life easier and happy. So W/we have used Chastity to keep O/our Dom-sub Relationship in perfect balance.
UPDATES
Remember, even if you are not in Loctober LOCKDOWN, this week's NEW session stands on its own as a very effective programming file so download it.
For those who are in LOCKDOWN, I MAY send a special HOT orgasm release session at the end of Loctober to consummate O/our relationship!
Don't forget your JOURNAL entries and your other Assignment instructions.
NEXT WEEK
HALLOWEEN is next Monday. I MAY have a sexy-Bite session. Also, I will have My Special Halloween deals to pick up any of the sessions you don't already have. I'm so good at Tricks and Treats.
This week, here are My special deals ~~~