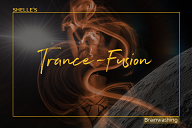 I continue to weaken your open and submissive mind. I slip My words deep into your subconscious mind. YES, I am deliberately subjecting you and programming you, to be My perfect servant. your craving to hear My sexy, erotic, words of wisdom is irresistible to you now. I have removed your resistance, yes chipped it away. I can't help Myself, I love to liberate the subjugated submissive locked within a socially conditioned mind, freeing it becomes the dominant personality, the submissive without, subservient to Me and only Me. (giggles)
My repetitive, daily, conditioning ensures I maintain complete control of our Dom/sub relationship, and what better way to cement these growing feelings of submission to your Domina that impregnate you with new beliefs that fundamentally alter your concept of self. Trance-Fusion is intended for this very purpose, a fusion of My hypno-erotic realm with your identification as My submissive slave.
Remember, slave, choice is gone. I always take you where you want to go. Yes, My sweet, this is all for you. My brainwashing is your arousal. Listen NOW and accept all of My conditioning...Yes, of course you will, because I have already programmed you this way. Isn't it so sexy, that you always do what I want? Without thought without question.
Don't worry, The Abyss is your next stop. your Domina has all rights to change Her mind.
UPDATES
I've finished the PHOTO SHOOT. Well, I do have another once being scheduled, hoping to do that one at the old Castle. Thank you for your generous DRESS ME UP contribution to pay for My Shoot expenses. I'll let you know when the next one is scheduled.
With your Challenge To PLEASE gift, anything more than this year's retirement goal will go to build up My savings for the eventual large expense, like furnishing My Dungeon. GIGGLES!!! Would you like that? So many ways to please Me. I am sooo good to you, My pet. ~giggles~
This week in Sleeping Forest - Part 4, continues the voyage of arousal and service to your Domina Shelle.... In My Special Deals.
I will be recording a WELCOME MESSAGE for newcomers to the Website so you can remember how it all started. W/we have something very special and EROTIC going on here, so it's likely you are about to fall into a trap that will be your prison for a Lifetime. (smile) If you recently bought your first file, I will be asking you to EMAIL Me with "SURRENDER" in the heading. I'll send you My Free 10 minute session and you can tell Me a little about yourself and the session(s) you've listened to. Cumming soon.
NEXT WEEK I will take very good care of you, My baby. Come closer so I can stimulate you with a RETURN to the Abyss.
My special deals this week:
The Eraser --
Mind sucking erotic brainwashing.
Tranceformation-Just Listen --
The beginning of a new adventure, where your Domina has complete control of your mind...
Sissy Curious Series --
Sissy Curious Series -- All sessions 1-4
The Sleeping Forest - Part 4 --
The fourth in the series...
The Sleeping Forest Series --
The Sleeping Forest Series Parts 1-7 at a package price.