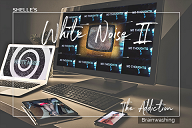 My baby, back by such popular demand, is one of My very favorite (Masterpieces), programming trigger sessions. you loved feeling brainwashed, mesmerized, aroused and controlled with WHITE NOISE (in Special Deals), giving yourself to Me as My Sleeper Agent. And now I have HEIGHTENED the EFFECTIVENESS with this week's new White Noise II - The Addiction.
What's that? White noise makes you aroused... and makes it so easy for Me to play in your pants and your mind~~giggles  you love what I do to you.
Do you remember when I first placed the White Noise trigger into your brain? Yes, I programmed your mind to respond to My words within the White Noise...Oh, it's OK. you probably didn't know when it happened. Believe Me it happened and now I'll manipulate your mind once again using only White Noise. So many ways to play inside you. So sexy, too, the many ways I can trigger complete control over you.
I chose you for this. Let your addiction take a deeper hold. Prepare yourself for additional sexual programming by My white noise. It will remain secret coding that you will embrace. It's going to be amazing. you will soon seek My words hidden in the noise. So, Listen now for your new instructions and your destiny coming true. My puppy is so eager to serve Domina.... This session includes sexy picture gifts, so you can think and dream of Me 24/7.
UPDATES
One piece of very good news is the recognition your Domina and Hypnotist is getting on a new Video podcast with a Review of White Noise. Here is the link. Feel free to leave your comment. In future weeks I will give you an update on additional reviews of My Erotic Hypnosis and how you can help out. So stay tuned. https://youtu.be/udKu_jgG9pw Just another reason to be all MINE.
My pet, you have been doing so well, letting Me (not that you had any choice) take over complete control of "you"....mind, body, emotions and will. you have been consumed by your Domina into whatever I want you to be. As you Love Honor and Obey, you will come to Me for everything you need in O/our Erotic Hypnotic world. And I am so proud of you for everything you are doing to care for your Domina.
Kisses and WHISPERS into your ear
NEXT WEEK
There is another world out there where W/we all spend time and have responsibilities. And one of My top priorities is taking care of your mental and psychological health. So next week will be a sexy stress relief session.
My special deals this week:
White Noise --
Become My Sleeper Agent...
Mind Numbing SLEEP --
Perfect HYPNOTIC...sleepy file. Conditioning...BRAINWASHING...all as you just sleep.