Deep Penetration
Time for more of Domina Shelle's "evil scheme".
Description
Level: Powerful
Length: 53 minutes
Category: Brainwashing-Mind Control
Sample: LINK
I am such a lil tease, taking you into trance, bringing you out of trance.  So easily and quickly now....Let Me explain.
Did you know that it is a clinical fact that when a subject is brought out of trance he remains in a suggestive state of mind for some time?
So if I place Post hypnotic suggestions, they will be absorbed by the mind and are just as potent or even more so than suggestions absorbed by the mind in trance.
Each time I take you into trance and bring you out of trance...your mind will be more malleable than before... perfectly and easily absorbing My suggestions..... creating a platform for perfect brainwashing.
This file will turn your mind inside out.
It will leave you baffled, stunned and dazed.
Includes finger snaps!
Just listen.
Product Download
Deep-Penetration-foe0g4sx.mp3
Deep-Penetration-foe0g4sx.mp3
Reviews
Monday, 26 September 2016
53 minutes of straight on brainwashing until you cry out in ecstasy and beg Her not to stop. There is never a time when i listen and don't come away dazed, light headed and intensely hungry for more. There is never a time when i listen that i don't want to immediately listen to it again. i could play it on loop and seriously listen to it non stop forever, that's how much i love it. Deep Penetration is truly a Shelle masterpiece. It starts out slow and by the end You are begging Her not to stop. For those of You who are wondering about this whole brainwashing thing that Princess Shelle does, give this one a try and You will NEVER be the same. Try it, feel Her penetrate You, beg Her to go deeper, give in to Her will. Deep down it's what you want.
Wednesday, 03 February 2016
Domina Shelle deeply penetrated my mind in this powerful file. Not just once but over and over again, and I loved every bit of it. This file left me feeling very calm and docile, and I am happy and content with the changes Domina has made deep in my mind, which will surely make me a perfect slave. It has been a couple of hours since I listened to this file, and my head is still tingling.
Friday, 21 August 2015
I love having my mind penetrated by Princess Shelle. She takes me down, and then she takes me down some more. And more.
More reviews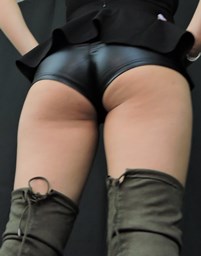 Get Updated