Hands Free Training - Session 3
Shelle's HFO Training ... Session 3
Description
Length: 30 minutes
Category: HANDS FREE-Mind Control-Brainwash
By now you must be so turned on and so MIND Fu*ked... feel your c*ck swelling as you read through My words.
Relax and prepare for another journey into pleasure and sensuous submission to My voice.  Every step in My TRAINING has taken you closer to c*mming with just My words.  you have given up so much control to Me already.  Now allow Me to milk your mind dry as I lure you deeper under My control.  Obsessed with orgasming for Me.  The way I turn your fantasies into reality leaves you horny and weak.  I play with your arousal until your sex is begging for an EXPLOSIVE climax.  Allow Me to stroke your lust until it overtakes and consumes your mind!  Succumb to My wet, sticky words, pet.  Erupt into helplessness for ME!
Train with Me...Let Me guide you to the ULTIMATE PLEASURE...that only a HYPNOTIST can give you.
Coming to a CLIMAX, SOON!
Product Download
Hands-Free-Part3-1swn5y8g-(c)ShelleRivers.mp3
Hands-Free-Part3-1swn5y8g-(c)ShelleRivers.mp3
Reviews
Thursday, 28 April 2016
This file has had the most impact on me in this series. The sensations She created in my mind were beautiful, and I was left to throb, drip, and spurt for quite some time. It took a while to wipe the huge smile off my face.
Tuesday, 26 April 2016
Well this one was surprising it´s just the half way Part and she already succeed, i know i should not be surprised or have any trouble to believe what happened with the knowing how much control she already has over me, but i am still surprise, simply because i tryed it for sooo long on so many different ways and with my lovely Princess just half way throught, NO squriming, NO moving at all and she already succeed, if i ever would have doubted her control or that Hypnosis works, then by now i surely would be convinced, not that ever did doubted any of this, i am just saying IF, now i am even more eager about how the rest would be, but too bad for me she has other Plans already.
Saturday, 16 April 2016
Domina Shelles soft velvet voice has been sex to my mind for a long time now. Her voice can drop me and send me on the most erotic journeys I ever dreamt possible. I can feel myself being pulled in deeper with each one of these files. It also helps that I love Her more than life itself.
More reviews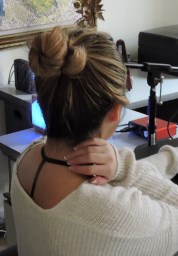 Get Updated