Realm Of Unconsciousness
I'll take you to a deeper level of servitude and OBLITERATE you with a mind blowing DEEP hypnotic trance...
Description
Length: 38 minutes
Category: Brainwashing-Mind Control--STATE OF CONFUSION
My pet, it is time you visit My realm of unconsciousness, a place which you will experience mind shattering bliss and pleasure.  you will find yourself submitting spiraling in confusion so DEEP within My erotic world of submission.  That you might never escape....as My sweet voice will have you begging for complete surrender as your Domina Shelle takes you to a deep level of servitude while OBLITERATING you with what can only be described as a mind-blowing hypnotic trance.
Once under I will weave layer after layer of hypnotic pleasure as you feel a dependency on My words, My TRIGGERS and MY TRANCES.  For such an experience it is absolutely necessary that you are naked and alone.  So take off your clothes, relax and SLIP into a surprisingly erotic bliss.
Taking you into a realm of unconsciousness.  A place of infinity, outer space, emptiness, blankness... a space of NOTHINGNESS!  If you have ever wondered just how deep into EROTIC HYPNOSIS you might go....enjoy the feelings of complete UNCONSCIOUSNESS.
Don't be surprised when My control will have you rock hard and ready for a massive explosion...when you are ready. Giggles!!!
Cum, listen and fall...Be careful, this session will slip up on you.
PERFECT Binaural effects for a mind numbing experience.
Product Download
Realm-Of-Unconsciousness-(c)ShelleRivers.mp3
Realm-Of-Unconsciousness-(c)ShelleRivers.mp3
Reviews
Thursday, 31 May 2018
Tonight I got addicted to the "Realm of Unconsciousness". This file is extraordinary – even magic. One thousand words lead to the Realm. One thousand words, uncountable words, spoken by Domina, create the reality of the Realm. Suggestible words and triggers are the trees at the side of the alley and with each word i feel my reality switch. I am there in the Realm of Unconsciousness – blank, mindless and aroused. I feel the desire to stay here – there was a choice and I took the second option – over and over again. Exquisite erotic hypnosis – be careful not to get lost in the Realm!
This file made it into my personal top ten list tonight!!
Thursday, 16 March 2017
So difficult to describe this. There's just this big hole in my mind when i try to think about this. Like there's nothing in there. That itself must prove that it worked very well on me. No tought, no mind, no person.
Wednesday, 15 March 2017
i will be honest, i don´t really know what to say, i may listened to plenty of her Files and no one was the same, the may had a few similarities every here and there, but this one, thts one was completly different from everything i listened to so far, i just don´t know how to describe this at all, i didn´t knew single spoken words like this could have such an affect, i can´t tell where it started or where it ended, i can´t understand that single words had this affect on me, i can´t understand how deep i was or my reaction as i woke up, this Place and State she got me to in this File, if possible i would be there forever and even without this being possible, cause Day to Day Life, i still feel like a Part of me still is there, yeah i really don´t know how to describe this File, the best way is just to listen and find out on your own, maybe in the end you will be as speechless as i am ^-^
More reviews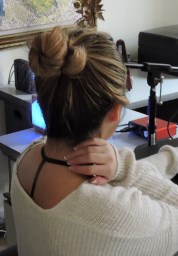 Get Updated