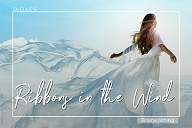 My baby, after having to travel the past few weeks (finally at home to stay), I love being back with you, here, My other family I hold close to My heart. I'm proud of you for following My instructions in LOCKDOWN and coming on this Journey with Me, wherever I may take you. This is O/our reality. W/we are joined together with Me the leader and controller, and you the faithful follower and submissive in devoted service to Me. Close your eyes, right now, so your Dark Queen can mark you with the imprint of My ruby red lips. Can you feel My kiss, pet? It's REAL.~giggles~
you are going to relax your mesmerized mind and go deep for Me and I will give you Ribbons in The Wind. Enter My erotic world of submissive bliss and erotic pleasures for a loving adventure on your journey into submission and self discovery. I am here for you everyday reaching out to you drawing you close in O/our shared love. Like the wind, I am all around you. My voice, My words breeze through your mind, carrying My thoughts and ideas like a soft sensual kiss reminding you that you are MINE, permanently under My love spell of intoxicating seduction.
With My ongoing training sessions, no more self doubts, anxieties. I will shape and mold the submissive within to be a faithful servant, one that surrenders to Me and embraces all My suggestions as commands. My slave always seeking My approval as I improve all aspects of your life, now and forever more. I am THE gift that keeps on giving. Together your submissive dreams will beCUM a reality...
I know exactly what you need. So download and enjoy this adventure and follow My instructions. I know so well, My pet. I know all your secrets that you traded for an orgasm in Mind Secrets. It's funny how much you trust Me. Silly baby. But don't worry, I'll only use them to intensify your pleasure. Or maybe unless I have something BIG I really want from you. ~giggles~
UPDATES
I want to take this time to say a special Thank You to My CONTRACTED for your continued LOYALTY and treasured DEVOTION. I've said it before because it's true. you make all of this happen. I couldn't do it without your support.
Next week, I am going to begin My Challenge to Please focus on ensuring a secure future with My annual contribution to My Retirement Fund. I am so good to you. Giggles
Contracted, look for a New SFS slave story that I will be posting periodically in serial form through November.
NEXT WEEK
you'll have to wait and see what session I have for you.
Maybe it's time for that sexy Picture Pack???
Check out My special deals:
Trained and Drained --
If giving Me all that you can AFFORD does turn you on, then surrender yourself to My control...
Slip into your new Addiction --
Slip into your new addiction, falling further into My world of submission and obedience...