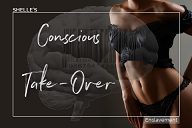 you know, My sweet, I should just pop My weekly training up and tell you to go and listen...I don't like it when you know too much… Some things you don't need to know. Sometimes pure OBEDIENCE is your ONLY NEED/MOTIVATOR... But, I'll tell you a little bit about Conscious Take OVER, just because I feel like teasing your mind and there, between your legs. I know anticipation is arousal ~Giggles~ and this week is going to be so exciting for you.
I have been hypnotizing you into that perfect state of erotic submission and obedience, taking you into hypnotic trance for a long time now...This allows Me to get deep into your subconscious mind, where you want Me to be, so deep that I'll always be there 24/7. Now I am conspiring with your subconscious mind to overtake your conscious mind, completely. Don't you just love it, My pet? Of course you do.
With your conscious mind out of the way, there is ZERO resistance, ZERO thoughts, ZERO control. Awww, what did I do? Did you feel dizzy with ZERO? ~Giggles~ My baby, the truth is that one session LINKS to the NEXT and THE NEXT... Just another LINK in the HYPNOTIC chains that bind you. Go LISTEN NOW. you always do as you are told. you know that you cannot resist your sweet Lil southern Domina. From now on, with just My voice, I will control your conscious mind in a more subtle way. you love how well I can talk to that submissive part of your mind. So just relax. you trust your Domina and your subconscious mind to know what's best for you. Obedience is so sexy that way, better than SEX when you say: "My mind belongs to Domina. Domina owns my mind." The perfect state of mind when you are home, alone with ME!
Month 2 Journey To Wellness-Lifestyle CHALLENGE.
These are lifestyle changes that need to be done, now and into the future, to keep you healthy and safe. W/we have MONTH 2 (FREE LINK) and the next lifestyle changes that you will practice regarding your diet, home cleanliness and exercise, until it becomes a natural and NORMAL way of life for us.... until it becomes a good habit, like listening to My voice everyday and reciting your Mantra.
Maintain the changes from Month 1 (wash your hands thoroughly for 20 seconds and don't touch your face without washing your hands).
UPDATE
Did you have fun this week, My love slave? With the completion of 7 day RELIEF Assignment you will also Thank ME for your release. Don't forget your written assignment.
I am very excited about a new SERIES I am working on School for SISSIES coming soon to a classroom near you. There will be new surprises for My sissy gurls. Stay tuned...
NEXT WEEK...These months of "isolation" give U/us the time to get even closer. I will bring you deeper under My control....
My special deals....
Full Access - Mind Manipulation --
I'm very well qualified to help you, My HARD and HORNY submissive...
Fatal Attraction --
EXTREME and DEVASTATING---POWERFUL and EROTIC