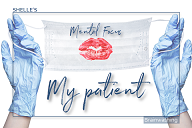 Welcome back, My pet. Today's session, My Patient - Mental Focus, is the first of a three part series called My Patient. Dr. Shelle is in the house and I want to thank you for participating in this important study to demonstrate how effective My conditioning is on both the subconscious and conscious mind. The second file will analyze Cognitive Dissidence and the third will explore Mental Distraction. This session, today, is also a continuation of the themes of O/our recent sessions. I have become the focal point of your every thought and every desire. you surrender to those intimate desires and feelings you have for your one and only Domina. It's become more than just a craving but a necessity of your true life as My subject.
Now, I will guide you to learn how to overcome the stress and anxiety of missing Me so much by avoiding resistance and focusing only on acceptance of your role and purpose in life. With Deeper into the Abyss, you learned how to be the best version of your submissive self for Me, desiring only what I want you to desire and nurturing you into what I want you to be. It feels so good to know that your powerful Domina controls every aspect of your life in O/our intimate Power Exchange.
I've become your Everything. This itching Desire to feel closer connected to Me can be overwhelming, as you​'​re thinking of Me all the time. you need My voice controlling your mind and this creates a longing for more and more of My attention and loving approval. Listen and I will show you the way, My baby. This conditioning session will help you satisfy and attain your longing desire for Me. And this will happen every time you Please Me and take care of Me, because this is one of your central roles as My obedient slave. That's how you can have Me...close to you, always and forever. Whenever you think of Me, I will know it when I see you striving to serve and Please Me above all else. The more you give of yourself.... the more you receive in return.
This programming will give you intense pleasure because you no longer have to be exposed to any ambiguity or doubt in your mind. you have attained your longing Desire. you now embrace the fact that you are completely owned and belong to Me and place My needs and wishes above your own. So, go and find your unique way to win My heart and approval.
UPDATES
I will soon put together a very sexy Picture Pack from My Photoshoot. Maybe available next week to pair it with a very SEXY, HOT session.
I am working on those surprises for those who sent a gift to Dress Me Up.
This is the last call for Challenge To PLEASE since My taxes are due next week. Every wonder why spoiling and pampering Me feels so good? ~giggles~
Sleeping Forest - Part 6 is in My Special Deals. W/w are almost through to the other side of the Sleeping Forest.
I will be recording a Welcome message for newcomers. If you recently bought your first MP3 session email Me with "SURRENDER" in the heading and I will send it to you.
On the 18th of this month I am going to the Beach with My sister and her kids. Yippee! And I'll have a reward session and assignment for you while I'm away. I'm so pleased with your loving concern and the touch gifts you sent to make Me feel better during these past weeks I haven't been doing so well.
NEXT WEEK you have been so good to Me that next week I'm going to return the favor. W/we will focus on your body and My control of it. Just perfect with New pictures!
Check My special deals for additional listening ...