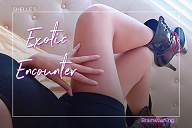 My darling, here W/we are in September. you know that I always have a plan. My goal for you in SEPTEMBER is to keep you HORNY by keeping you focused on Me. Do you know why I love you hard and HORNY? Do you have any idea why I love to play with your (My) c*ck? I have MASTERED EROTIC HYPNOSIS. you know that I am a MOST POWERFUL Hypno-Domme. Did you know that I am known and respected world wide?...Well keep READING.
I use the word EROTIC a lot. Have you ever thought about what the word EROTIC actually means? Let Me help you: Eroticism from ancient Greek is a quality that causes sexual feelings, as well as a philosophical contemplation concerning the aesthetics of sexual desire, sensuality, and romantic love. The term may also refer to a state of sexual arousal or anticipation of such – an insistent sexual impulse, desire or pattern of thoughts.
This week's session Exotic Encounter brings all this into play. This will be a very physical session. I am thinking of you in so many different ways. First, there you are naked, c*ck and b*lls all swollen with desires and needs. Then, there's you on your knees, face between My thighs, begging for one sweet taste of My p*ssy. Now, tell Me, what are your first thoughts? Are they My thoughts just as I mention here, or thoughts that I have previously embedded into your brain? It doesn't matter what got U/us here. My words made Me wet and you hard... Using your sexual desires to take more control of your mind. This is the encounter with Me that you've been dreaming about. Just as I planned.
Now, Shelle's Directory of Sexual words and phrases:
Erotic/Eroticism: To open one's mind to SEX. Allowing words slip into your brain to control not only your mind but the pleasure passages through one's body that reaches the point between a man's/woman's legs. The words stimulate and penetrate deeply...the sex organ then swells / becomes wet (sometimes dripping)...leaving the body and mind open to being fucked, not a physical fuck but a MIND fuck. Giggles!!! MIND fucked description... Mind fucking can lead to or cause sexual pleasure throughout the body and sometimes causes an orgasm or multiple orgasms on occasions. Note: While the body is in Ecstasy, the mind is open to the control of a Dominant especially at the moment of orgasm. Because the more control you give Me...the more aroused you get. I am the source of all your pleasure.
Now EXPERIENCE the ENCOUNTER! Listen Now...do NOT think...OBEY!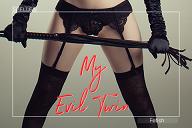 I have a second session this week. I'm allowing you to choose to listen to My Evil Twin. This session comes with a WARNING that it will PUSH limits of humiliation, degradation and soft FinDom. Before listening to this session, please be aware that I want you to enjoy this side of Me, just for the fun of it...haha. This session will probably surprise you, maybe even shock a few and may be just right for some. It's naughty and WICKED...I push many of your limits. Don't worry, it won't hurt too bad... It's BITCHY but sexy. Don't say I didn't warn you!
UPDATES
Don't you think a Stroke Tribute is a perfect ending to a perfect ending?
I also mentioned at the end of this session I said you would want to please Me in any way I ask. I am asking you to tell Me how you pleased Me. Email Me. you can include it as part of your assignment or in a separate Email with PLEASING DOMINA in the heading.
ASSIGNMENT
I have an Assignment COMING next week...SUPER sexy...Preparing you for Lock_tober and No-vember...giggles
NEXT WEEK...wait and see...assignment PLUS! I love surprising you!
This week's special deals:
De-familiarized --
I will mind-fuck you in a naughty way, in ways that you will never have considered Me capable of...
Dripping Orgasmic Pleasure --
It feels as though your mind has slipped down right between your legs...
Burning Anticipation --
Teasing your mind and body as I slip a Post-hypnotic TRIGGER deep inside your subconscious mind.