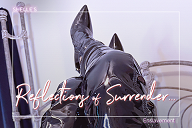 My puppy, I'm going to play with your little mind like a yoyo, a human yoyo. I'm going to use the technique called Fractionation which you have enjoyed so many times before. Just as a reminder, in hypnosis Fractionation is the practice of bringing you out of the trance state for a very short period of time before I put you back in again to bring you deeper and more open to suggestions. I am taking you up and down so quickly and easily this week with Reflections of Surrender. And the focus of all your attention will be My boots.
Are you catching on, My little sex toy? Using your arousal to bring you into a deeper state of servitude. Yes, My little foot slave, My boots will enslave, make you weak for ALL My instructions and drag you deeper into My world of seduction and sexual surrender. you may find yourself with each count down in so many sexy positions. Right now as a little exercise, close your eyes, open your mouth wide and stick out your tongue five times. Good OBEDIENT slave.
Have you ever looked into your own sleepy eyes while in a deep trance to see your reflection? Don't you look so WEAK, sleepy and vulnerable to whatever I tell you to do?. I love playing with you, My puppy, Mind FUCKING you as I teach you how to suck and lick your way into a deeper servitude! It's time to serve at My feet, transformed into My perfect boot slave and beg to serve your Mistress. Say: "Thank You, Domina Shelle" for making you helplessly addicted and enslaved to My feet.
I have included a few PICTURES of Me in My sexy thigh high boots to give you the most vivid experience to enhance the excitement and arousal of pleasing Me when you do everything I tell you to do. Obedience to Domina is PLEASURE. Say: "Thank You, Domina Shelle" for making you My obedient foot slave.
UPDATE
JJ is back to his old usual loyal and obedient lil pup. And you are making good progress helping Me pay those medical bills with your appreciated contribution to Challenge to Please. JJ barks his approval and I know how much you want Mine. ~giggles~
Domina drives to Tennessee again on Saturday. Wanna drive Me? Or keep Me company as I drive?
NEXT WEEK
Next week, I have a lollipop for you to suck on...I'm giving your mouth a workout!
I'll also give you more specific information about O/our Xmas adopted family.
Here are this week's special deals:
Past, Present & Future --
I will take you so deep into My haven of sexual submission, it will forever change you...
Erotic Reflections --
Ready for more delicious programming by your ever desirable Domina.
Corona Daze --
Escape to My world of erotic domination and control...