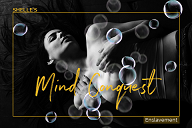 My pet, do I have you sexed up enough after O/our passionate kiss? Well, are you UP for some more, with My sexy erotic words creeping deep down into every muscle and every nerve in your body as you feel your body and mind collapsing from the inside out? I am sooo good to you. Enjoy this week's gift that's hidden within Mind Conquest. Imagine My voice literally invading the cells in every recess and part of your mind. Feel that happening as you listen as My words invade each and every cell.
your mind, your thoughts are broken apart, as I slowly introduce your already hypnotized mind to the R FACTOR. The R Factor will stream and flow though your mind defeating your every defense. My words will move seductively into every crevice of your mind as I invade new territory, with only one mission. Helpless and too weak to resist, you simply SURRENDER. My conquering words are literally unstoppable as I intrude into your most vulnerable regions.
This session is just beautiful...A perfect link to My Hypnotically binding chains. My seduction, I mean induction will overwhelm your mind.
NOTE: Chastity slaves, you may offer your denial. Soon enough you will ALL be begging Me to put you in Chastity. Mark My words, begging Me! ~giggles~
This session is a sweet lead into a very erotic Christmas-New Year journey...These next weeks are going to be a HYPNOTIC Ride to remember.
UPDATE
Did you miss Me? I really needed that getaway...As you prolly know, I am such an outdoor Farm Girl at heart. This was just the break I needed to rest and recharge. I spent time with My sisters. I went riding on Our 4 wheelers and bruised My butt. Anyone want to kiss it to make it better for Me? ~giggles~ Meanwhile, I can see you enjoyed your Farm Assignment. WOW! you do love ASSIGNMENTS, don't you?
With only 14 days til Christmas, it's time to plan. Plan on making Me happy on Christmas. Yes, I've raised My expectations this year. After this very difficult year dealing with double My usual shifts at the hospital because of Covid, I am looking forward to being pampered and spoiled with a Gift of Love, something from My Wish List or maybe your Lunch Money. I have been TOUCHED by all of your gifts for O/our adopted family. I am so excited. I will plan to drop off gifts soon and I plan to share pictures after Ms Rose wraps them all. We are going shopping next week to choose the children and outfit and to purchase Christmas food items. It feels good to give to those who need us. you are the BEST. Thank you so much for all the love.
Oh and I almost forgot, I did not forget what a goodboy (or girl) you have been this year. I have SPECIAL Santa Shelle gifts for...as well as a new Shelle's 12 Days of Christmas. This could be a lot of Holiday fun.
Contracted, you should have gotten (or getting soon) My new training session for Dec.
My baby, be extra careful and safe. The COVID numbers are bigger than ever. Follow all the Covid safety protocols about Masks, social distancing, wash hands often. It's hard around Christmas time, but just a bit longer and W/we can have some sense of normalcy. My heart is with you and all those you love.
NEXT WEEK I'll have the first of a very sexy Christmas session, My little elf.
My special deals this week:
Tranceformation - Sex Toy --
In the end you exist, utterly dependent on Me, a robotic sex toy...
Brain Wreck --
Succumbing Mind Confusion and DEEP EROTIC Relaxation... A Hypnotic Seduction.