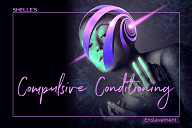 These last few weeks have been special, My sweet. As the outside world is more dangerous and less inviting with Covid, W/we have been able to retreat into My Erotic Hypnosis World to spend more, what should I call it? "Quality time", together. ~giggles~ I feel you are closer to Me, thinking of Me, wanting and needing Me more. And I am there for you. W/we have been discussing Pleasure lately, the sexual pleasure of arousal and obedience. And this week HYPNO LOOPED...Compulsive Conditioning, brings you that and so much more. My sweet, I am PLAYING for keeps. My conditioning is irresistable to you.
So, as you get comfortable and start to listen to My voice today, you will realize that there is no place in the whole world you would rather be, than right where you are, in O/our intimate world, listening to My voice. Think of that. All you need is to be with Me. A sweet piece of heaven on earth. you are compelled to listen to My voice over and over. Repetition brings pleasure. I give you pleasure. I am conditioning you to be able to absorb and feel more pleasure. My voice causes you pleasure. Obedience to Me is pleasure. Making Me happy is pleasure. Pleasure with an added dimension.
This is the pleasure of sheer joy, happiness, satisfaction, security and comfort... To know you will come back again and again to this special place to listen to this session whenever you need to. Everything in life becomes better. you love everyone around you more because you can spend this intimate time with your Domina. you are eager to succeed with everything you do because I am your motivation. I am your anchor, a special HYPNOTIC key to a happy life.
Feel your submission and My power...OBEY and listen Now! you'll thank Me over and over again.
UPDATE
My gurls, if you purchased White Noise and don't already have your Sissy White Noise version contact Me and I will send it to you.
HAPPY THANKSGIVING
Thanksgiving is the time to reflect on the good things in O/our lives. Because of Covid this is not going to be a traditional Thanksgiving with lots of family and friends coming over for Thanksgiving dinner. But W/we have so much to be thankful for. I'm thankful for the love and devotion you give Me everyday. I am so happy to have you close to Me. And you, of course, are most happy to have Me in your life making everything better. Be safe and listen again to your Looped COMPULSIVE session this Thanksgiving. My gift to you, My sweetheart.
I'll be in Tennessee in early December to visit family before Christmas. Because there is more need and shifts at the hospital, I've had to postpone My beach getaway until January.
NEXT WEEK
Next week's file will be a POWERFUL and MIND blowing Femdom Hypnosis session, the Superior Woman...guess who? It is dripping HOT!
Contracted, you have a session ready and coming to you this weekend. Watch your email...It's COMPLETE!
Check My special deals:
Magical Lips --
I have something Magical, you will NOT be able to resist...this is a very sensual and MOST erotic experience for you...
Obedience is Pleasure --
I draw you DEEPER into your most submissive place. A place of complete OBEDIENCE to ME!