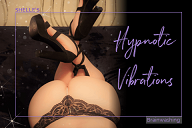 My baby, another week and W/we are still here and still close. Work at the hospital is stressful, and that's why I look forward to being right here with you...writing and recording these sexy sessions for you and finding new ways to excite you. It makes Me feel good to know how receptive you are to My voice and conditioning. And many thanks for the continued support you give Me in so many ways. As a reward, this week's mp3 Hypnotic Vibrations feeds your need for submission.
My EROTIC HYPNOSIS conditioning arouses you. you love it when I take charge. My control arouses every part of your body and mind as I infuse it with pleasure, making you so weak and helpless, submissive and obedient....My voice will vibrate into your brain. My words sink deeply into your subconscious mind and stay there. your body is loose and relaxed, but your c*ck is rock hard, your are like putty in My hands... Molded into My puppet, My sex toy, aroused into submission, aroused into whatever I want you to be just for your Domina. your brain chip is activated and programmed to obey. Deeper and deeper into relaxation. Accepting all of My suggestions. Now you know what to do...click and LISTEN and fall. Obedience is PLEASURE. I am your PLEASURE. Get LOST in Me.
Like I said before, as a reward for taking such good care of your Princess, I give you choices.
VERSION ONE has the OPTION OF TWO ENDINGS: 1. CUM for Me, 2. SURPRISE ENDING---Domina's Choice (it will be either cum or chastity-just for those who love being SURPRISED).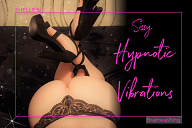 VERSION TWO is for My special SISSY.
CONTRACTED, with your Monthly obligation you may enjoy SURRENDERING C to this week's session as many times as you need (over the first 24 hours)…your reward for PLEASING DOMINA.
UPDATES
I really miss being pampered with eating Dinner out, having My hair, nails done... Feeling Your hands massaging My shoulders and back.***GIGGLES*** I'm having more items such as food, household supplies and beauty products delivered to home, so I decided you can pamper Me with a gift card from My Wish List. I am so good to you, My baby, letting you please Me so many delicious ways. Kisses
BTW I have gotten back some of your 7 Day Relief Project reactions. One interesting reaction is the fantasy that cums to you when you orgasm or deny. It is usually a visual physical image of your Domina (and some sexy activity) OR the arousal associated with your feelings of enslavement- submission, obedience, servitude, pleasing and serving your Domina. Revisit those fantasies when you pamper Me with something from My wish list. ~giggles~
NEXT WEEK
A Surprise. I will also have My Lab Rat Experiment report for your reading pleasure.
My special deals this week:
Thought Control --
Very POWERFUL mind modification for your life of erotic enslavement...
Behavior Modification --
A compulsion...highly addictive MIND FUCK. you NEED and DESIRE to listen...
The Voice --
My voice floats inside your brain. Who is it that controls you?