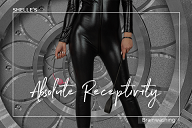 A little slow on adding My new blog, due to this winter storm. It's a big mess out there. I will not be getting out to drive for a couple of days. Our power has been an on off event. Hopefully there will be a generator soon. My sister has a generator and never worries about power. Some areas of NC were hit even worse. Looks like some may be without power for a long time. We have another storm on Thursday and Friday. Wait! Do we live in the South? Anyway, I'll keep you posted.
Now for the good stuff…I've known it for a while, but these last few weeks really confirmed it for Me. I look forward to the escape, comfort, excitement and connection in My Erotic Hypnotic World ALMOST as much as you do. Have you missed Me? Did you enjoy last week's days in Chastity? Funny how you fell into that trap. you are welcome, slave. ~giggles~ I love power!!!
Meanwhile, I've been busy with 18 hour shifts at the hospital and trying to catch up on My sleep dreaming of you, My baby, and My favorite time of the year. Valentine's Day is only 4 weeks away. So let's make these weeks all about love starting this week with the very sexy Absolute Receptivity.
I have something a little different this time when I bring you to My Private dungeon, in addition to your overwhelming sexual arousal. It is intimate, just you and Me, My baby. I know how much you miss your Domina when you don't hear from Me. I know how completely addicted you are to Me, hearing My voice, powerless to My every word, craving My instructions. I am more and more a natural part of your life. This time that we spend together is so important, so anytime you are really missing Me you are to revisit this session and know I am right there with you, giving you My love and energy, taking care of your need, while you get to Love, Honor and Obey your Mistress Owner, like I want you to.
UPDATES
If one of your biggest fears is disappointing Me or not having Me in your life, don't worry. I will give you many opportunities to Please Me. I want you to start thinking of Valentine's Day, you know, one of My very favorite days of the year. Then next week, I am going to let you help take care of O/our future together with Challenge To PLEASE. you are so good to Me on Pet Wednesdays and I give you Surrender C with your loving Volunteer contribution. Let's keep this going.
I am really having to rearrange each week it seems, to spend more one on one time with you. So thanks for your support and understanding. I loved your sweet notes. They pulled at My heartstrings. Kisses. I changed the CHAT from Tuesdays to Wednesday at 1 o'clock. This should work better for Me.
I am not sure when I will have My sissy version of Transcendance but will let you know. Remember. if you bought the general version I will send My gurls this updated version, Free.
Like with My sessions, I want to personalize My communications with you so you have Me close to you when My other responsibilities take Me away. This is one reason I'm working on The Beginning Path Assignment. Stay tuned for developments.
NEXT WEEK Mmmm, still thinking about it. I know you'll love it.
This week's special deals:
Doped and Dominated --
My sweet words triggering that powerful surge of dopamine that leaves you utterly obsessed and blissfully compliant...
The Experiment Series --
Join MY PSYCHOLOGICAL EXPERIMENT---be MY guinea pig.
Confusion--Under My Influence --
I will cast my HYPNOTIC spell that will never be broken...