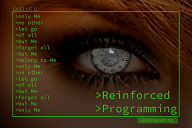 My baby, are you feeling the Christmas spirit like I am? W/we all really need it, don't we?... This week, let's escape into My Erotic Hypnotic world. I am going to be extending My programming to reinforce My power over you, My mindless subject, with Reinforced Programming. I am so good to you, giving you what you want and need. After all, Domina always knows best.~giggles~
My voice, My words, My body are your Pleasure. you are addicted to obeying everything I say. When you surrender control, you live in a state of constant arousal, eager to please Me, always striving to be My perfect slave. you would do anything for Me. Wouldn't you, My sex toy? I will always be there with you, even in your dreams. you will always belong to Me, living your destiny to serve your beautiful and powerful Domina. So, I want you to relax and let go for Me. Feel Me really close to you. Look into My eyes and listen to this session over and over again and let everything happening to you sink in. you love Me. This is where you want to be...with Me. These are the feelings that will make you happy...belonging to Me, addicted and mindless, obedient and aroused. Just let it happen. Kisses....
CHRISTMAS SPIRIT
Remember 2021 for the CHRISTMAS MEMORIES W/we are making together right now. I am very proud of you, My baby. W/we are bringing lots of cheer to O/our Family. I added a few more Amazon cards. If you make a cash gift just let Me know so I can make sure it goes to the family. I also added a couple of items for the Mom of the family, because she won't do anything for herself. If you want the opportunity to contribute to O/our Christmas family and haven't, yet, you may send a contribution and say it's for the next Walmart food shopping trip set for December 20th. Or go now and contribute an AMAZON GIFT CARD. Make sure that I know what you have contributed, so I can include you on the card with O/our gifts.
GIFT GIVING
I loved putting up the decorations and Christmas tree at home. I'm making room under the tree for all your presents. ~giggles~ I'm doing a new photo pack of Christmas Pictures. I am doing an all RED set. I'll let you know when it's ready. So, are you finding ways to spread love and cheer? Like I said last week...Don't forget the true spirit of Christmas is to give from the heart.
W/we are going to share and exchange gifts for Christmas. Now, I want to make it easy for you. you can send a welcomed THE GIFT OF LOVE. I am feeling very practical and if you do, too, then take care of Me now and for the future with a Challenge to Please contribution as your Christmas gift. If you really like Christmas shopping, then go to My Wish List for ideas...Or TRIBUTE to get My hair and red nails all prettied up. Send Me for a Massage or out to DINNER.
UPDATES
In case you missed it, Lady Helena has a new sexy session, Gypsy Pendant in New Releases. She is back after a long pause, but is feeling better and is ready to take charge, again. Give Her your support!
NEXT WEEK
you are going to love where I am taking you and what I am going to do to you. And remember pictures in Red cumming soon for Christmas.
My special deals this week:
Snapped --
Sexy Trigger training by Domina Shelle.
Black Magic Woman --
Erotic MIND NUMBING Hypnosis. Under My Spell you will never be the same...