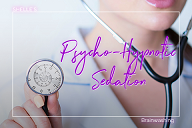 My adorable guinea pig, this week you'll spend some time with Nurse Shelle who is here to bring a calming effect (to keep you focused on Me), to relieve your anxiety (about the outside world) and to help you sleep (dreaming of Me). After all, you are addicted to Me, and My voice is your drug of choice. I'll be testing My new technology on you, My lab-rat.
Let Me explain about this week's Psycho-Hypnotic Sedation. Instead of using sedatives and medical hypnotics to work on your central nervous system, My voice and MY Hypnotic POWERS are more effective— with the added benefit of being so arousing. I'm going to Hypnotically SEDATE you!!! Just how I may do it, not so clear. But, with My experimental techniques I will also be SEDUCING you. Once I have you under My control with no motor reflexes, I will, of course, use this opportunity to do whatever I want to your mind and body.
Now, let Me tell why I have such power over your Mind and your body. As the Object of all your sexual fantasies, your mind simply succumbs to whatever I tell you to do. your body always responds with arousal making you so weak for Me. So, if I want to use you as My personal sex slave while I have you sedated, I will. Think about it. I control your mind which controls your body. Nurse Shelle will be CARING for you...with Her body... Breathe in Her scent and literally feel the touch on your sex. I know everything about you. ~giggles~ I know what you need and crave. I always do what I want when I want. you just OBEY! Listen and I'll SHOW you.
UPDATES
What a wonderful and sexy Loctober this was. I should keep you LOCKED down always. you were so good to Me, so sweet and sexy too. I had lunch everyday, sexy outfits, poems, confessions...I am really thinking "fully caged" always. Giggles.
Thank you for your sacrifices...and for all that you do for Me now and always. Thank you for asking about My sister and being concerned. She has a new word...she uses a LOT now, haha. Did I tell you? She can speak maybe 5 words and she picked up this one from Me: DAMN! Yes, she says Damn a LOT. Funny! I love My sister.
you know how I love ALL My pets, especially JJ, who for a while I thought I would lose. I'll let you know what happened next week.
Did you do anything for Halloween? It was too wet here to do much...No one comes to Our house, prolly too dark...and spooky in the woods.
It was a great BD for H. We had a nice dinner out. THANKS for sending Us...plus messages await.
I know that it's early, but start thinking about O/our Xmas family. I'm thinking of gift cards. Maybe a few surprises...This family could use a lot, including food and clothing.
Let's make Xmas about LOVE. We need LOVE! Please stay close to ME! W/we need each other.
NEXT WEEK ...wait and see.
My special deals have changed:
My Captive Sissy --
you are driven by NEED and LUST. Maybe I'll play in your panties...
My Captive --
you are driven by a HARD, throbbing craving to beCUM My perfect slave.
Latex Oblivion --
My luscious latex leaves you bound and begging for more... (giggles)
Chemical Sedation --
Embrace the reality that I am in complete control of your mind, body and c*ck.