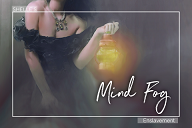 Get ready, My spellbound subject, to offer Me your open and submissive mind needing to be hypnotized as My compliant hypno-slave. With this week's Mind Fog, just find your way to Me through the mist, My sweet, and I will reward you. This session is beyond a DEEP TRANCE! The symbolism in this session is strong: the compulsion to follow My words, the knowledge to trust where I lead you even when lost in mindlessness (the fog), and the certainty that you'll do whatever I command in order to savor the pleasure of obedience and submission.
Let My voice and words be your guide. I want you to experience all the rewards of your Ownership with complete Obedience to My Absolute Authority... when you surrender to My control and need permission for sexual pleasure... when living your life for Me in O/our Erotic Hypnotic World always eager to please Me in any way I wish.
So, get comfortable and relax and let Me seduce you into bringing out the very best of your true submissive self. I am at the center of your world, the Object of all your desires. The better you are for Me, the better you will be in everything you do. I am your motivator and life guide in your journey to be My more perfect subject. W/we will be celebrating your beautiful submissive mind craving My training and conditioning, begging for My domination and control. Perfect.
So, simply obey all My instructions as I take you deeper and deeper so you can get closer to Me. Bringing you deeper into enslavement, living your life in submission. Feel the pleasure of your collar..... Then, finally the ultimate celebration as I give you permission to start stroking.....Up and down...Up and down...into ecstatic bliss. There is so much pleasure when you stroke and orgasm only for Me and dedicate yourself to serve and please your Domina, giving Me everything you have to give. And you will always be Mine for Me to take care of what you need!
UPDATES
Things are going well in Tennessee, here with My sister. Although she had a TIA mini stroke last Sunday, she is doing well and out of the hospital. See how you are part of My family? So, it's natural that I want to keep you informed. And you can participate even with a small Challenge to Please contribution towards My living expenses here and My travel expenses home this weekend.
Contracted, are you having fun with your 3-day Assignment? Of course, you are.
Enjoying My postings on My Domina Shelle LoyalFans page? Subscribe and don't forget to leave a comment so I know what you want more of.
NEXT WEEK
For next week, shall W/we keep it Up and Hard with more Programming for My suggestible slave?
My special deals have changed:
Absolute Receptivity --
W/we both know it's all too easy for Me to lull you back into My Hypno Dungeon...
Hocus Pocus --
I am a POWERFUL dominant woman that uses magical words to seduce vulnerable submissives...
Wicked Acceptance --
I will sneak in and ABUSE My CONTROL over your life.
Women - Black Magic Woman --
Erotic MIND NUMBING Hypnosis.... Under My Spell you will never be the same...
Black Magic Woman --
My sexy voice will leave you helpless to MY will, so come here, be seduced by My SPELL.