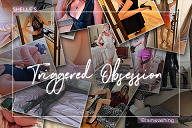 Welcome back, My puppy, to this special Erotic Hypnotic World I created just for U/us. you did so well for Me in Loctober, I thought of a little reward for you this week with Triggered Obsession. I know how good it feels to be under My power and submit to My control and domination. This week I want you to think of this time you are spending with Me because it will be the best part of your day (a time of TRUE submission). So relax, get comfortable and let Me take you deep into O/our world that is becoming more and more real and exciting for you.
Is there anything better than the feeling of being so weak for Me, so open, craving to obey My every word? I am a greedy Domina. I want not only your mind but I want everything you have to give Me...your love and devotion, your submission and obedience. Lucky you. I'll be using your arousal to make you desperate for Me...desperate to please Me, desperate to serve and obey. Say "Thank you, Domina Shelle".
My sweet, every time I take you into trance I drag you deeper into My world of seduction, coercion and sexual surrender. I break you down, and make you (more and more) mine, the more addicted you beCUM to Love, Honor and Obey Me. The TRUTH is, My pet, I've made it so easy for you to stroke to My voice as I indoctrinate and manipulate your mind to embrace the blissful reality that you exist to serve Me, to please Me, and make My life easier.
And I just might implant a sexy trigger that will keep Me at the center of your world. It's OK. you trust Me. I know what you want. you want Me to take over your life. you love the pleasure and arousal of doing EVERYTHING to please Me, wanting to work HARD to earn My approval. This is the guidance and direction that gives you satisfaction and purpose. So, let My voice and body stroke you into the deepest submission and enslavement to your Domina Shelle.
UPDATES
Let Me give you an update on My puppy JJ. He's doing great. I love having such a loyal, devoted and obedient puppy. Can you imagine the cost.... Between early treatment and diagnosis, the surgery and hospital stay it was around $4000. I sure wish I had pet insurance to help with the bills. Wait, I do. It's YOU, My loyal, devoted and obedient puppy. ~GIGGLES~ Thank you for your help and if you want to do more, I am going to use any contributions you can make to Challenge To PLEASE towards paying off JJ's medical bills. JJ says woof woof. Surrender B now!
Contracted, I have a lil surprise to send as November's gift. Watch your email.
I'll be making that long drive back to Tennessee (maybe next week) to see My sister.
NEXT WEEK
Next week I will have a very sexy Fractionated session to get you all excited. you will become My very own yoyo...Giggles!!! Oh, just another way to make you even more obsessed with Me. Say "Thank you, Domina Shelle".
Now, about O/our Adopted Xmas family, focusing on Walmart gift cards, Amazon gift cards and I did add a couple of items to My Amazon List for the MOMMY! Moms always go without for the family. I want her to feel special too!
Can you believe Xmas is only 6 weeks away. WOW!
Check My special deals:
EnRaptured --
Surrender to your submissive feelings, as I take you deeper into mesmerized ecstasy...
Pink Forest - Shine --
My pretty sissy gurl, prepare for a very sensual and erotic experience...
Dominance - A Hypnotic Brainwashing --
Accept the overwhelming pleasure of complete hypnotic submission...
Deja vu--The Indoctrination --
I am going to adjust your thought process, yes totally f*ck it up.