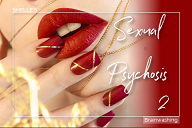 What an unbelievable week I've had with a medical emergency that landed Me in the hospital! Scary. Something I never want to live through again. But everything is really OK and I'm all right now at My irresistible best. No need to worry about it, because it turns out very lucky for you, My pet. It's made your Domina want some physical comfort and pleasure, just PERFECT for this week's Sexual Psychosis 2. I'm going to take very good care of you this week, My baby.
There is no devious, ulterior motive.... well there is always an ulterior motive..hahaha…It is a reward for you for being such a good slave to your Princess. I only want you to feel the sensual pleasure of O/our physical intimacy. I am going to implant a NEW fetish that will bring you back to this session with your sexy Domina, over and over again to experience a new dimension to your enslavement of needing Me more desperately every day. you'll have to DOWNLOAD to find out exactly how it happens. Get into bed naked. Put on your headphones and snuggle really close to Me and submit. I am sooo​​ good to you.
VOLUNTEER contributors, this is the perfect session for your 15th of the month permission to release. If you have NOT released after your VOLUNTEER gift you may do so now.
UPDATES
I decided what I want for Valentine's Day. I want a new PC....NO, I NEED a new PC (laptop). It's outdated and slows Me down a lot. So I will be using Challenge To PLEASE for My new laptop PC and anything extra will go for this year's retirement fund. With your help, this is going to work out so well. Yippee!
Contracted, in case you missed it, read the new SFS slave story.
COVID is right now at its most dangerous level of infection...Here in the US and everywhere around the world. Be safe and follow all the Covid protocols, like I do, religiously as if your life depended on it. Remember I have big plans for you in My future. giggles
you may have heard Lady Helena has been sick. But She is doing much better now and sends Her love. Thanks for your concern and best wishes for both of Us.
NEXT WEEK you are going to love what I'm wearing, just to get you all excited! Slip sliding away. Giggles!
Check My special deals ...
Dominance-Mind Control --
I will demonstrate powerful control over you...you will fall for Me...feel your submission.
Worship - Kneel at My Feet --
There you are under My feet, under My power, under My control. The accompanying arousal is compulsive...
Drink Of My Essence --
This will purify your mind, body and soul, and help you dream of your Princess every night...