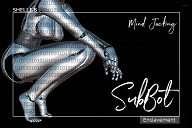 Have you ever thought of being Prince Charming to your Princess Shelle...to come to My aid for whatever I need?  Well, I have a possible way to do that and I think it's going to work well.  With all the long hours at the hospital, I knew it was time to call on you, My dear slave, to do anything I want, whenever I want it.  Sounds good so far, doesn't it?  Massage My feet, make Me dinner when I am tired, like right now.  Provide Me some leisure time when I need it by doing My chores.  This week you have the chance with Sub Bot.  A bot that will serve Me at the snap of My fingers.  Obeying Me without thought, without question.  Sounds even better, doesn't it, My lil sub bot?  I'm going to do a little Mind Jacking.
Relax and listen as I turn you into My very own personal hypno submissive robot, conditioned and programmed to obey and serve, deepening the erotic hypnosis pleasure of enslavement.  I will make the necessary adjustments to your brain with a new set of instructions.  A new set of core values for love, purpose, pleasure, and submission.
I like this a LOT...you turned into a robot, My personal Prince Charming, submissive, conditioned and programmed to obey every word that I say, focusing all your energy on doing all the things you can do for Me.  Craving your Domina who satisfies all your submissive needs so that spoiling and pampering your Princess is so much fun, and so arousing, too, isn't it, My sweet sub-bot? ~giggles~
Note:  If you prefer the PLAIN session without effects, just email Me.
UPDATES
HEALTHY LIFESTYLE.  Here is your Wellness Month 3 of the Wellness-Lifestyle Challenge.  W/we are using Covid as a way to change to a healthier lifestyle a few steps at a time.  No sense going through this pandemic, only to return to unhealthy habits.  I prescribe good health and no stress one healthy step at a time.
My baby, you are making Me feel so happy and good.  Thank you for continuing to work hard to make My life a little easier...your Domina works so many hours a week...Knowing I have your support will continue to invigorate Me.  So, thank you for SPOILING Me.  you always know how to make Me smile.
Mantra assignment.  Gotten a bunch.  Don't be shy, you can just email it, if that's easier than mailing it to My PO box.  I want to know how you look at Me and you.  I still love little surprises. ~giggles~  I'll email you soon to discuss.
NEXT WEEK Hocus Pocus, magical changes with a powerful, permanent effect to your future as My obedient slave.
All My gurls, bring an apple for Professor Shelle's School for Sissies next week.  Summer school is in.  Social distance will be practiced.  Panties are EXPECTED. ~giggles~  I'm looking forward to this new School series with just U/us girls!
NOTE:  Special surprise coming for My contracted.  I am PLEASED with your LOVING monthly support.  you just amaze Me.
My special deals this week:
Dazed and CONFUSED --
35 minutes of erotic stimulation...while My sweet voice torments your mind.
Realm Of Unconsciousness --
I'll take you to a deeper level of servitude and OBLITERATE you with a mind blowing DEEP hypnotic trance...