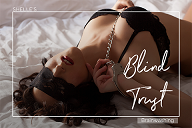 My helpless puppy, let Me take control once again. I have a very helpful session for you this week. It will make everything so much easier and open up to you the life you are destined to live as My loyal and devoted servant. In Blind Trust My hypnotic voice will be your trigger. When you trust Me completely, you know I will always look out for what is best for you, even when I create the element of FEAR. Trust and fear are so arousing. Believe Me, this builds that lasting bond you are longing for and I make it so exciting!
I will teach you to have absolute confidence that I know what you want and need. your true self is a person of commitment and sacrifice, a person of loyalty and devotion. I know those fine qualities you have, My sweet slave. The truth is you are lost without Me. you have already discovered that your true happiness is the time you spend serving My needs and every whim.
you trust Me, don't you, pet? you will listen because it excites you when you don't know what I am going to do to you. But I want you to enjoy the gratification and pleasure of giving to Me everything I want and desire. you sacrifice for Me. What makes you happy is making what Domina wants your top priority. So, you will Cum for Me, My baby, and build Absolute Trust so you will never have to worry about disappointing your Domina. And I will always be happy with you.
UPDATES
Summer is over. Welcome Fall, My Chastity slave with LOCTOBER. I will have a SIGN-UP next week, if you are going to be participating. I will give you all the details next week. ONLY those who sign up will receive FREE teasers and other goodies.
In a couple of weeks there will be a new sexy Picture Pack for your visual pleasure, My baby.
NEXT WEEK
LOCTOBER Sign up.
check My special deals:
The Unethical Therapist - Purple Pill --
Unethical, HYPNOTIC, wicked and MANIPULATING...
Neural Reorientation --
A very SEXY 3 day Assignment, picture surprises and a 14 Minute BRAINWASHING LOOP.
Dark Room - Warped Mind --
Twisting your reality until your warped mind slides ever deeper into My dominion...