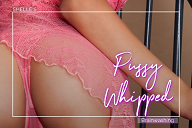 My dear darling guinea pig, you love to obey and please Me, especially when I am at My most wicked and devious self. you can't get enough of My programming. I love when you are vulnerable and exposed, surrendering and giving yourself, completely, no matter what I am going to do to you. Pleasing Me with your obedient and subservient behavior is a powerful demonstration of your devotion to serving Me. As a reward, My hypnosis and brainwashing will take you to My white leather couch with an experiment you'll want to experience again and again in this week's session, Pussy Whipped, a very sensual visual feast beyond your wildest fantasies. This will forever bind My voice and words to My sensual seductive body and its complete power over you in your open, susceptible mind.
Mmm... just the title is giving you that special tingling right between your legs. In addition to My hypnotic voice and words to take you deep into trance, My red painted fingers will induce and seduce you with My sexuality to Dominate you into whatever I want you to be for Me. you love that aching feeling you have for Me, feeling so weak, helpless and at My disposal. Breathe in My scent to make you more mindless, obsessed and addicted as I stroke you into the deepest enslavement you will never want to escape, forever whipped by the scent of My pussy.
UPDATES
I've been in Tennessee for almost a week now. It's been a productive week with My sister's rehabilitation. If you want to help with My living expenses while I'm here, you can send some assistance to My Challenge to Please. Thanks, again, for your support and good wishes. I'll be coming home later next week.
NEXT WEEK
My little hypno-plaything, you always need a little more of My hypnosis and domination. I'm looking forward to it.
My special deals have changed:
Trained and Drained --
If giving Me all that you can AFFORD does turn you on, then surrender yourself to My control...
Countdown to Enslavement --
Let go, My baby, as I further enslave your mind to My will...
Blank State of Mind --
I am about to take you to a whole new level of HYPNOTIZED-BLANK-MINDLESSNESS...
Power Of Hypnotic Control --
Be My brainwashed HYPNOTIZED guinea pig...I will experiment again inside your brain...
Power Of Brainwashing --
Powerful BRAINWASHING that will make U/us both happy...giggles