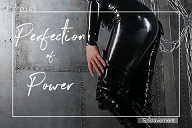 For a long time now, My pet, I have been training you to be the best slave you can be for your Domina Shelle. Do you ever think of just how much power I have over you, My slave? Since I know everything you need to make you better for Me and to be perfectly happy as My slave, I have been perfecting that special quality you need, no crave, from Me. In this week's session you will experience the Perfection of MY Power. So settle back and relax to go deep for Me. And, bring your conditioned and receptive mind to all that I have planned for you. I have Absolute control over you.
Have you noticed how you feel weak and helpless, compelled to obey all My commands? And why does obeying feel soooo pleasurable? you will listen as I pull back the curtain and reveal some of My secret weapons that have brought you to this point in your life with Me. My sweet, W/we have a very remarkable trusting Dom-slave relationship. It's personal, intimate. W/we know a lot about each other. W/we have been to bed together. ~giggles~ W/we genuinely like each other and take care of each other's needs with My in charge and you, submissive and obedient, obsessed with pleasing Me. Think of all this while listening to this file.
Now, let Me do you a favor. When you get aroused, My pet, as I describe your situation and you Cum, it will create yet another link in the chain that binds. you will feel so much better when you send Me THIS and experience My PERFECT power over you. Doesn't it make Everything about U/us work so well?
UPDATES
My sister is improving here in Tennessee. Working out the next steps to a fuller recovery. I will allow you to help Me, again, with My hotel and living expenses for this week with your appreciated Challenge To PLEASE donations. I don't know how long I will need to be here, but I plan to go back to NC for a bit as soon as I can. Thanks for coming through for Me.
My pet, if you purchased clothes for Me at Xmas and I have not sent you pictures, email Me.
It's time to start thinking and planning ahead to one of My three favorite days of the year. YIPPEE! Valentine's Day with a Gift of LOVE. Awww, you wuv Me.
Finslave, at last your time to shine has cum with the personal invitation email.
NEXT WEEK W/we are getting closer to Valentine's Day. For a session... let Me think about it.
This week's special deals:
Hypnotic Hood --
Embrace the sensual bliss of being enslaved by your beloved Domina Shelle...
Mind Fucked Into Compliance --
In your continued descent into submissive compliance, this session will blow your mind...
Destined To Serve --
Embrace your destiny as My slave and My property.