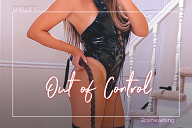 Congratulations for making it this far. Can you see the finish line, My chaste slave? W/we all like to have fun, pleasure and be happy. That's why I give you prolonged Chastity in LOCTOBER so all My followers can feel how powerful and motivating your need is to PLEASE, SERVE and OBEY Me. That is the source of your greatest fun, pleasure and happiness. Immediate sexual gratification becomes very secondary to the lasting pleasure your deepening submission and obedience does to your psyche, emotions and sense of self satisfaction.
Chastity has the capability to amplify your growing addiction to pleasing Me and the power to HARDEN your dedication to being singularly focused on ME and My happiness as your #1 priority. I am conditioning you to experience the ultimate submissive bliss, the sensual overload and the erotic pleasure of complete obedience and discover the inescapable Truth that My complete Domination and Control of you and your sex is very REAL and what you crave.
With the LOCTOBER WEEK IV--Chastity Tease I give you a very provocative TEASE session. you will be mentally mind fucked by My Tease and Denial. It's really a lot of fun to play with you as My lil sex toy and tease you into surrendering all control and rights to your sex. I want you to ride wave after wave of submissive bliss that only I can give you as your Domina and Object of your desires and lust. Having you hard and HORNY, overwhelmed with EROTIC desires for Me makes Me wet with the power I have over you and Stiffens your resolve so that you are singularly focused on My happiness, as it should be, since I own everything about you.
I know what's best for you and I am doing this so you can experience the deepest pleasures of total submission to My will that will soon Cum to you on completion of Loctober WEEK IV - CHASTITY TEASE Assignment. Do you like feeling so addicted and obsessed with Me, craving MY control, desperate to Please Me and make Me happy with your submission? Then, PERFECT! Just surrender to all My desires with strict obedience to My Absolute Authority. This is the perfect balance between Domina and Her devoted Submissive.
NEW SESSION
This week I have a perfect session for you with Out of Control...Yes, it's safe for LocTober! You will find yourself with that beta-c*ck in your hand, you will mantra, and you will sleep. Perfect, isn't it! Stroking yourself into a deeper submission. Stroking My voice deeper into your open and suggestible MIND and I explain your WEAKNESS to you. Get NAKED, download and listen!
Coming Soon—A SEXY and WICKED Fetish session-Go With The Flow. Can you imagine what this session may be about?...If you guessed LOSING ALL CONTROL, you are right. But, you may need a towel for this one.
UPDATES
For everyone NOT signed up for Loctober LOCKDOWN, Week IV Chastity Tease stands on its own as a very effective programming file, so download it.
Lady H sends her love...she's working on getting back with us soon! Don't forget her BD is coming up on the 25th.
NEXT WEEK
Next week is My sizzling LOCTOBER hot RELEASE session. And I'm sending a few teasers as FREE gifts to those who are signed up.
Then the following Tuesday is HALLOWEEN. Let's see what I have in store for you.
Also, I will have Special Halloween deals for you to pick up any of the sessions you don't already have. Tricks and Treats are My specialty. Mmmm. How will I bite you this year?
This week here are My special deals:
LOCTOBER 2023 Chastity Series --
The COMPLETE 4-week LOCTOBER SERIES.
Embrace of the Succubus --
Forever lost in rapturous pleasure for the Succubus...
Halloween Princess - A Hypnotic Nightmare --
Intrigued by your own desires for danger...
Supreme Domination --
The art of PERMANENT etching My Supreme Domination into your open and suggestible mind.
Realm Of Unconsciousness --
I'll take you to a deeper level of servitude and OBLITERATE you with a mind blowing DEEP hypnotic trance.