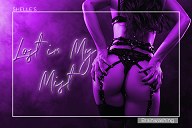 Today, My baby, I have something a little different than My regular blog. I want to share a few facts about techniques that I frequently use to fuck your mind into submission. Have you ever wondered why you allow Me to play inside your head and manipulate you the way I do? And why My Brainwashing is so appealing to you besides getting you so aroused?
First of all, BRAINWASHING is a term that is used to describe the process by which someone's thoughts, beliefs, behavior are manipulated in order to implant a different set of ideas, values, goals or actions. It can involve strategizing, persuasion and deception in order to change someone's perceptions or beliefs. In some cases, though, this process can also be used by the Hypnotist for exciting and erotic purposes.
The concept of erotic brainwashing is one that has been explored in various films, television shows, books and other forms of media. The idea is that someone is "brainwashed" in a sexual and/or romantic manner and that this can be an enjoyable, stimulating experience. In these scenarios, someone is usually controlled, seduced, and/or manipulated through the use of suggestibility and hypnosis in order to create a more powerful sexual experience often controlled by the Hypnotist.
So, think of this when you DOWNLOAD this week's session, Lost In My Mist. I am using Brainwashing to create an erotic experience for you, My helpless subject, because I have conditioned your weak brain to be highly suggestible to My seductive voice and My words of instruction. I can make you do what I want you to do. As I tap into your subconscious mind, it's so easy for Me to access your deepest desires and fantasies and guide you exactly where I want you to go.
The TRUTH is without Me in your life you would be lost and lonely, an empty vessel with no hope of reaching the highs that I routinely give you. My Absolute Authority instills in you a real sense of passion and purpose, giving you focus and direction to be the very best version of yourself just for Me. This is why I have beCUM your everything because you aspire to be MINE and every time you fall for Me you want Me to further liberate the submissive REAL you.
UPDATES
Just so you know, I am still in Tennessee for this family medical emergency... It's been such a difficult time waiting for the next step of beginning a rehabilitation program.
Again, I am using contributions to Challenge to PLEASE to pay for My Hotel and meals while I'm here in Tennessee. your good wishes and support have been an invaluable help to Me. Thank you so much! Kisses
I have not been able to do any work except to be here with My sister. So, things have been put off for a bit until I can get back on schedule. For My Fin slave, I hope this delay is getting you even more desperate to serve Me. ~giggles~
NEXT WEEK
Let's roll the dice and see what pops up.
Take a look at this week's special deals:
Forced Femme Series --
My "Forced Femme" series will CHANGE you into My SEXY sissy slut.
Catastrophic Events --
Cum and let My sweet sultry voice weave a hypnotic-spell over your enslaved mind...
Behavior Modification --
A compulsion...highly addictive MINDFUCK. you NEED and DESIRE to listen...
Mind Absorption --
Timeless Brainwashing--Into a MINDLESS FOG.