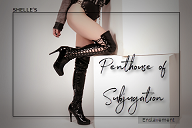 Originally, I was going to take you to My Dungeon, but with Christmas so near, I decided to take you this week on a grand tour of Shelle's Penthouse, the perfect place for your ongoing weekly SUBJUGATION training and programming. you love the way only I can make you feel. I am using your obsession to seduce and recreate you the way you need to be, as My control DOMINATES you more and more. Take a deep breath in and smell the scent of My leather. Hint hint... This is how you will become My more perfect slave, forever living in the bliss of perfect submission to your Princess, Domina Shelle. And for My gurls' Sissy Penthouse visit, you are going to love what I do ONLY for you.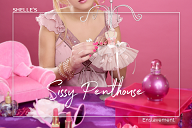 Before you listen to O/our little adventure, I want you to close your eyes, right now, and let your imagination run wild. Do you see a fantasy of what you would like to see happen to you if I brought you to My penthouse? IMAGINE......... Now, My puppy, bring your leash and listen to this beautiful experience. Then I have an ASSIGNMENT for you. Let Me know if it measured up to your fantasy or exceeded it in a review of the session. Even 2 lines will do, or expand on your fantasy, too. I always love hearing your words of devotion.
At the end of this difficult year in that outside world let's go out with a bang. I want to leave you in luxurious, pure enslavement here close to Me. It feels so good when you are so passive, so open, falling into deeper submission and obedience to being whatever I want you to be. Relax and just let go. Let Me teach you the sheer pleasure of enslavement to your Powerful Domina.
To augment and really luxuriate in your enslavement, I've put The Beckoning and Objectified in My special deals so you may listen to them next week…. your reward for pleasing Me so well.
UPDATES
The next two weeks, for Christmas and New Years, I have messages of thanks and good cheer. you've been so special all year long. And I'll be setting O/our goals for another wild ride through your mind in 2022. The best is yet to cum, My puppy.
CHRISTMAS
Christmas pictures in red with NEW Playground Surrender for next week. This is the last chance for O/our Christmas family contribution with the Wish List. Thank you so much for all the LOVE and SUPPORT of those in need. This means so much to Me! More than you will ever know.
My best present right now would be Challenge to PLEASE, for My future savings. That is My very practical priority.
NEXT WEEK Contracted, expect some special gift wrapping for you. See the benefits of Ownership! Also pictures and Playground. And maybe your Final Brainwashing??